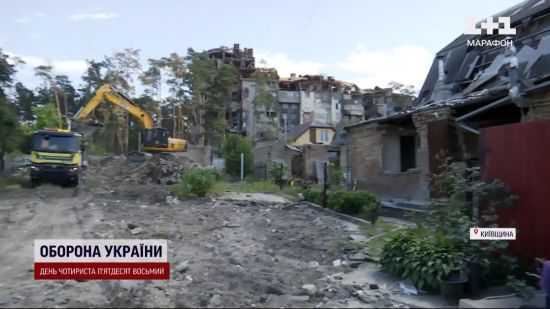 When every house on the street is destroyed.
About 70 private houses began to be restored in Irpen. All within the framework of a comprehensive program to rebuild housing for those who lost it due to the war. The program will operate throughout the Kyiv region, where the occupiers visited. What you need to have and know before submitting an application for reconstruction – reports TSN.
For example, the yard of Mr. Serhiy, a resident of Irpin. From the house where he lived for more than 40 years – Russian shells left almost nothing. I didn't even try to restore anything. At first, because I was shocked, and then, because I understood – it's okay.
In this place, Irpin suffered almost the most – it was impossible to find at least a dozen surviving houses after de-occupation on several streets.
That's how everything looked then. And now – excavators are buzzing and trucks are driving. Because work has begun on the restoration of two streets in Irpen: Bagirov and Gostomelskyi Shosse, about 70 private houses. Mostly all at the expense of the state. It was joined by the UN and the charitable foundation "JEM" from the USA, now their share is windows and building materials.
Currently, we are talking only about private houses, high-rise buildings will start in the coming weeks, because dismantling is still in progress. But in general, the reconstruction program is designed not only for Irpin, but for the entire Kyiv region. It has a certain priority, in particular with regard to funding. But there are no difficulties for citizens to get into this queue. The main thing is to have the documents of the owner, and to submit a claim that your real estate is damaged.
The reconstruction program gives a choice of 4-5 projects of different buildings. If you are not sure whether it is on the lists for reconstruction. then submitting data is also not difficult – an application in Diya, or an appeal to the local administration.
The main advantage of the comprehensive reconstruction of the Kyiv region is that the works are ongoing, started in Irpen today, and are planned to be completed by mid-autumn, and also – the reconstruction concerns not only buildings, but also the entire surrounding infrastructure – streets, sidewalks, bridges.
We will remind you that Ms. Anka Feldgusen, the German ambassador to Ukraine, wrote in an article for the Kyiv Security Forum that Ukraine has already started restoring the damaged property of Ukrainiansin, however, during the next decade, the country will need at least $400 billion in international support.
Read also: