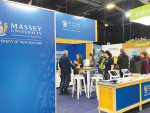 This year, Massey University will celebrate its 50th anniversary of hosting National Field Days.
As in previous years, Massey staff will be sharing cutting-edge research, innovation and learning with visitors.
Staff from the School of Agriculture and Environment's Agricultural Landscape Research Center will present a working model farm consisting of two contrasting agricultural landscapes. The model will serve as an example of a series of best management practices (BMPs) to help improve and manage water quality in agricultural systems.
A team of senior research and teaching staff will introduce participants to a working model to demonstrate key findings from school research and how implementing BMPs can lead to improved environmental outcomes.
Head of the School of Agriculture and Environment, Professor Paul Kenyon, is delighted to be able to share the research, which he says can significantly improve the impact of agriculture and help protect the environment for a more sustainable future in the agricultural sector.
"The model will demonstrate BMPs in a variety of agricultural environments across the country to illustrate the right mitigation measures in the right place. Applying these techniques can significantly improve water quality in our rivers and help reduce the impact of agriculture on climate change."
[yarpp]
One part of the model will represent intensive farms on flat, highly productive soils and will demonstrate research on the benefits of plantain, as well as variable rate irrigation.
Another area will represent larger production systems on the hills, showing a buffer zone at the bottom of the slopes and a retention dam to capture pollutants.
Bachelor of Food Technology graduate Margie Hunt will join the booth to showcase her company Soochi, which combines natural science, taste and innovation to produce a range of health drinks and supplements.
Sustainability has been a driving force behind the brand's ethos, particularly when it comes to sourcing collagen, which provides benefits for skin, hair and nails.
"Collagen can be a controversial topic and not all collagen is created equal, so we've gone to great lengths to make sure the sources are ethical and effective. The collagen peptides we use are a hydrolyzed, easily digestible form of collagen, which is a byproduct of meat production. As someone who farms, I'm a big fan of zero waste when it comes to animals, and I believe that finding ways to use all animals is a way to respect the life we've been given," says Hunt.
Along with CEO Tina Chow and Creative Director Naz Babapour, the all-female founding team has a shared mission to create innovative collagen and prebiotic sodas and supplements that they say are good for the skin, body and mind, and about the environment.
The collagen drink concept originally came as part of a food design and development project when Hunt was a student at Massey. After graduation, she revisited the idea and continued development with Chow and Babapour to create an improved drink with a gut health element that doesn't compromise the taste. Hunt says her food technology degree provided a lot of practical knowledge and skills that have become the foundation of her career. "A lot of what I learned about product development in my fourth year really helped me get there.
"Massey's degree not only gave me knowledge and skills that I could apply to my business, but also provided opportunities to network and interact with industry experts."
The Soochi team will be offering tastings of their range of drinks at the Massey stand and an opportunity to chat about food technology and product development. Visitors will also have the opportunity to take home a canned drink with a flavor to their liking.
Hunt will also join the panel discussion Wāhine toa o te Whenua: The Future of Food and Food Technology on Thursday 15 June at 11.30am.




Source link – https://www.ruralnewsgroup.co.nz/rural-news/rural-general-news/fifty-years-of-innovation-for-massey-university-at-fieldays