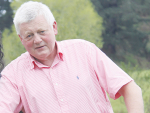 It's still taking some farmers around the Northern Hawke's Bay town of Wairoa twice as long to get to Gisborne or Wairoa because the bridge across the Te Reinga river is still not fixed.
Wairoa mayor Craig Little, who is also a farmer, is frustrated at the delays in repairing the bridge, which affects farmers around the settlement of Ruakituri.
Little told Rural News the journey to Gisborne would normally take under an hour, but for large trucks and trailers it's taking over two hours.
"It's coming up to Christmas and people in this community need certainty and they can't see ahead of themselves because of the delays. They can't carry on like this dealing with delay after delay."
Little says other farms now have road access, but again in many cases detours are the norm and this is hard on farmers, their stock and the trucks going into rural areas. He adds that such detours are adding cost – especially to sheep farmers who are facing much lower prices for their stock.
Recent heavy rains hit the region in the past weeks and the main road south from Wairoa to Napier was closed for about a day – again adding to the stress of the local communities. This rain also hit townships and Little says more houses were red stickered.
[yarpp]
But for farmers like Little who spend time off the farm attending to other businesses, the weekends are not a time to relax. They are still busy repairing fences damaged by Cyclone Gabrielle and other events.
"In my case it isn't necessarily large areas of fencing that need to be fixed – often it's smaller sections of a few metres and this is time consuming."




Source link – https://www.ruralnewsgroup.co.nz/rural-news/rural-general-news/detours-still-the-norm