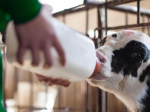 The Veterinary Council of New Zealand (VCNZ), which regulates veterinarians and sets standards to support responsible antimicrobial use among veterinarians, is in the throes of developing a new strategy to minimize the risk of Antimicrobial resistance (AMR) in New Zealand animals.
Antimicrobial resistance is one of the top 10 global public health threats and occurs when bacteria, viruses and parasites no longer respond to medicine, making them difficult or impossible to treat.
VCNZ chief executive and registrar Iain McLachlan says the strategy will complement initiatives in other parts of the sector, including the New Zealand Veterinary Association (NZVA) and the Ministry for Primary Industries (MPI).
"Veterinarians, as stewards of antimicrobial products and the sole authorizer of their use in animals, have a critical role to play in managing the risks of AMR," says McLachlan.
"We're looking forward to getting this work underway and will be consulting right across the sector to ensure a wide range of perspectives are captured," he says.
A steering group has been established which will review how antibiotics are currently used and antimicrobial stewardship by New Zealand veterinarians.
[yarpp]
Members of the group will also interview stakeholders and evaluate AMR strategies. A discussion document summarising the group's research will be widely consulted on before the strategy is finalised.




Source link – https://www.ruralnewsgroup.co.nz/rural-news/rural-farm-health/vcnz-to-set-up-amr-strategy