bfmtv.com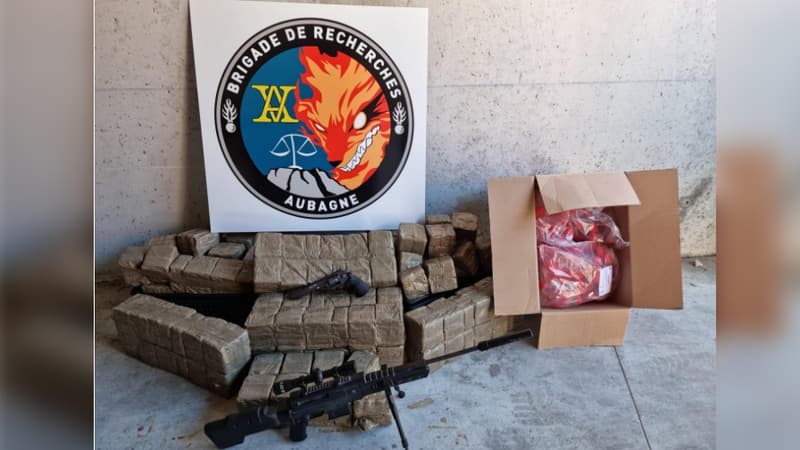 Nine people were arrested on Monday in an operation mobilizing 40 investigators and 135 gendarmes. Seven were referred within the week.
A drug trafficking was dismantled in Provence-Alpes-Côte d'Azur after several months of investigation, said the Directorate General of the National Gendarmerie in a statement on Friday. Nine people were arrested on Monday as part of an operation mobilizing 40 investigators and 135 gendarmes.
A total of 140 kilograms of cannabis resins with a market value of one million euros were seized in eleven different locations across the region. Weapons, ammunition and 5800 euros and cutting and packaging equipment were also found by the police.
Seven people referred
The investigation, launched last January by the Aubagne Research Brigade, made it possible to identify a network established in the Provençal hinterland. Several surveillances then revealed the relocation of a network to the Consolat city of Marseille.
"The members of this traffic have developed a structured network with a specific role for each actor (treasurer, carrier, resellers, nanny, head of the network, etc…)", explain the gendarmerie in its press release.
In mid-April, a judicial investigation was opened by the Marseilles court for "acquisition, possession, transport, offer or sale of narcotics and participation in a criminal association with a view to preparing the offenses of trafficking in narcotics".
Of the nine individuals arrested on Monday, seven were referred the following days and three were the subject of a warrant of committal.
Safe link https://www.bfmtv.com/marseille/provence-alpes-cote-d-azur-un-trafic-de-stupefiants-demantele-140-kg-de-cannabis-saisis_AN-202209230490.html
Source link