frenchtechbordeaux.com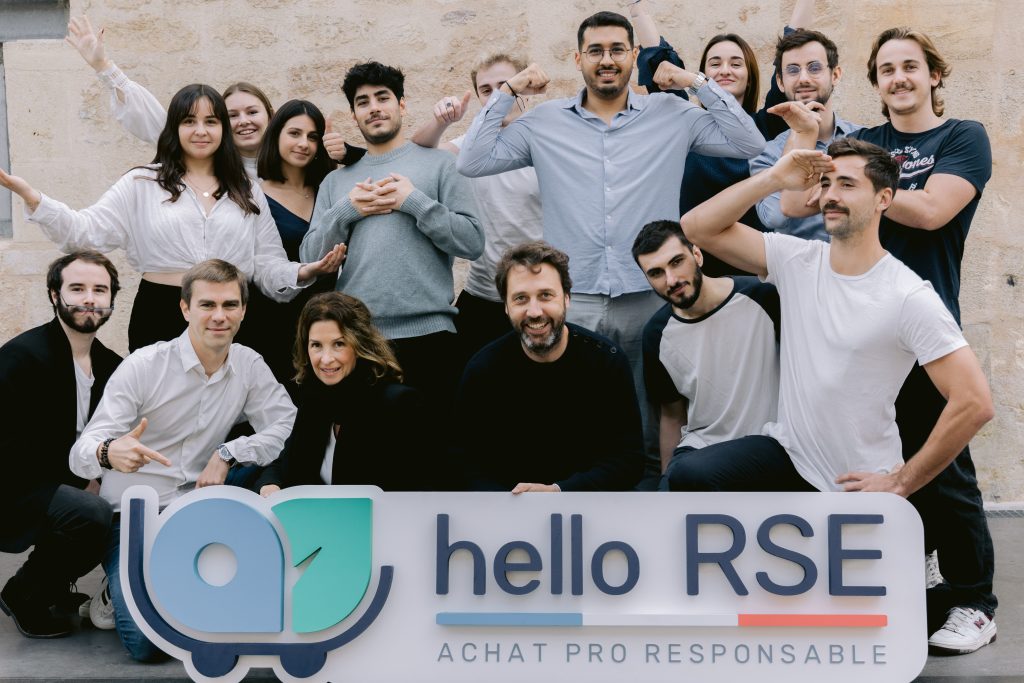 The Bordeaux startup hello RSE announces that it has completed a funding round of 1.3 million euros with the Banque des Territoires and BADGE. In strong growth, the company offers a market place to help local authorities and schools to buy in a more virtuous way.
With this fundraising, hello RSE will be able to expand its offer, recruit and accelerate its already sustained growth. The startup is part of the 2022 selection of the NA20 program supported by the 7 French Tech ecosystems of Nouvelle-Aquitaine.
Founded in 2018 by Olivier Perron, hello RSE defines itself as "the first e-commerce platform to overcome simple referencing by price and availability in favor of an approach based on the principles of CSR". The society is positioned on the market for over-the-counter orders (less than 40,000 euros) from the public sector. It thus references many educational solutions from kindergarten to university: computer or educational equipment for language learning or solutions dedicated to children with DYS or ADHD disorders.
Help SMEs gain access to over-the-counter public procurement
Its positioning goes against marketplaces such as Amazon, which swear by the lowest price and immediate availability. hello RSE has developed an algorithm that is based above all on the social and ecological impact of products and suppliers. The local character is also closely watched, guaranteeing jobs as close as possible. For public actors, it is the possibility of complying with legislation that now obliges them to move towards more virtuous modes of consumption.
By highlighting local resellers committed to a virtuous approach, hello RSE also wants to allow thousands of French SMEs to access public procurement more easily and therefore to relocate business.
The social, ecological impact and the local dimension as filters
" What makes you visible on hello RSE is both your geolocation and your local character; but also, your "level" of CSR (acquired labels, solidarity company status, etc.). What makes our concept unique is our ability to aggregate the right CSR data at the very heart of the buying experience. "says the company. The purchase funnel allows Internet users to immediately favor the best labeled products, the least energy consuming or even the most repairable. To do this, simply activate the impact button ("Show only the most responsible products"). Once on the product page, hello RSE immediately suggests the most responsible and local sellers.
An offer to be extended to all companies
"While many regulations aim to guide local authorities towards more responsible purchasing, there was no tool allowing them to easily make more sustainable purchases. Today our objective is clear, to make over-the-counter purchases, which represent approximately 40 billion euros, more responsible », declares Olivier Perron, founder and president of hello RSE, accompanied by the Chartrons eco-creative nursery.
"By favoring sellers through their CSR approach and not through their SEO expenses or price, hello RSE breaks with e-commerce as we have known it until now. Our platform remains fully in line with growing expectations in terms of purchases favoring short circuits, ethics, diversity and respect for the environment. And, beyond local authorities, we will quickly extend our offer to all companies concerned that their purchases are in line with their CSR objectives. adds Aymeric Le Quinio, Managing Director of hello RSE.
" Schools and communities are currently under-equipped with digital equipment. The Banque des Territoires is committed to facilitating their access to equipment and uses to help them fulfill their mission but also to encourage experimentation with new educational models and help reduce educational inequalities. adds Christophe Genter, director of the social and territorial cohesion department at the Bank of Territories.
//////////////////
The French Tech Bordeaux association relays the news of its members! Would you like to send us your latest important information? We can distribute them to the community of innovation players through our various communication channels: website, newsletters, social networks, etc. Email us with a few lines and a photo. And so as not to miss anything, Subscribe to our newsletter !
Your company is not yet a member of La French Tech Bordeaux?