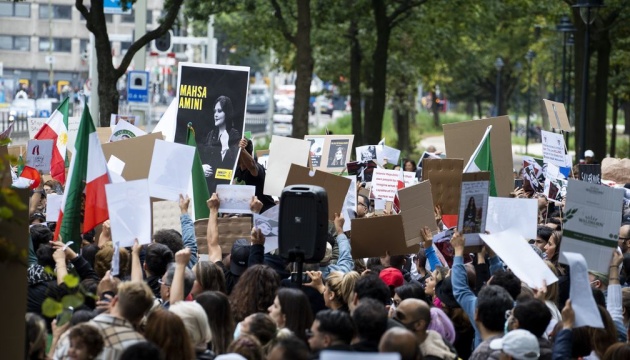 In The Hague, the Netherlands, a rally was held in support of women after the death of a 22-year-old girl in Iran.
This is reported by Ukrinform with reference to NOS.
"The Hague also held a demonstration following the death of 22-year-old Mahsa Amini, who died last week after being detained by Iranian 'morality police' for not covering her head," the statement said.
There is an angry reaction to Amini's death around the world and in Iran. Iranian women burn their headscarves and cut their hair during rallies. Anti-government slogans are also chanted at the protests and shouts, among other things, "Death to the dictator."
Also, near the building of the House of Representatives in The Hague, you could hear, among other things, "Down with the dictatorship". About a hundred demonstrators with Iranian flags and banners came to the rally in The Hague. As during the protests in Iran, some women cut their hair, others burned their headscarves.
Iranians in The Hague cut their hair in solidarity with the dead young woman.
As it was reported, women were banned from appearing in advertisements in Iran.
Ministry of Culture and Orientation of the Islamic Republic Iran (IRI) told advertising agencies that women are now banned from appearing in advertisements due to the government's tightening of the so-called hijab and chastity law.
President Ibrahim Raisi's July 5 decree enforcing the hijab law led to a new list of restrictions on how women can dress. Patrols of the so-called "morality police" began to work more actively and tougher on the streets, and videos appeared on social networks in which police officers detain women, forcibly put them in vans and drive them away.
https://t.me/Pravda_Gerashchenko