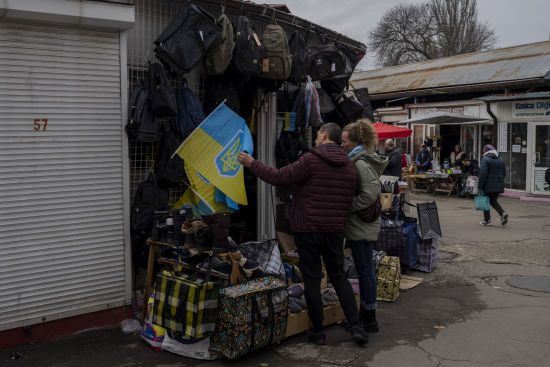 The director of the Kherson city public organization "Sofia Center", Olga Tsylinko, worked as a professional psychologist before the occupation of Kherson, but over time she concentrated on helping those who really needed care, namely families with children with disabilities.
As part of the "Life in the Occupation" project, Olga told how she bought, in principle, only Ukrainian products, which she delivered to her wards. After the liberation of the city from the occupation, there were no fewer people in need, because the regional center of the partially occupied region is constantly under fire from the Russians. Constant artillery strikes on the city only worsen the humanitarian situation, so volunteers are exposed to danger.
According to Olga Tsylinko, the Russians are not shelling Kherson with rockets, but hitting it and its inhabitants with mortars and "Grad" installations, which leads to significant destruction and casualties. It is safer under such conditions to be indoors than outside.
According to Olga, from the first days she took in three girls who were studying at a medical school. They had to be fed. Everyone who lived in Kherson knew that it was necessary to feed oneself, and it was extremely difficult. This was accompanied by fear and lack of money. "It was a terrible situation. Almost starvation. It was in the beginning. From the middle of March, we realized that we need to help others. We began to work more widely with the population," she said.
The director of the "Sofia Center" noted that during the occupation people tried not to die, so it was difficult to talk about psychological support, because the children were gathered twice during this time, and consultations were mainly conducted by telephone. The specificity of the occupation is that it was impossible to help except by collecting money. The collection of funds was organized in the unoccupied territory, and then they were transferred to Kherson.
Olga Tsylinko noted that their headquarters worked on the first floor, and one of the units of the FSB of the Russian Federation was located on the second floor. For full-time work in the occupation, a legend was invented and forbidden words were painted, such as "psychologist", "psychological help", "public organization", etc. Also, the occupiers were often intimidated by the fact that their inappropriate behavior would lead to unpredictable consequences.
However, the Russians did not stop and conducted constant searches. According to Olga, everyone lived in constant fear and in a state of slavery, when complete lawlessness reigned around.
Olga is convinced that after the end of the war, Ukrainians will have to worry about their psychological state. For this purpose, it is necessary to create special institutions, introduce courses, etc.
Olga Tsyhilko advises Ukrainians who are in the occupied territories and under constant shelling due to military operations to live one day at a time and not wait for liberation tomorrow, because it will be a big disappointment.