1481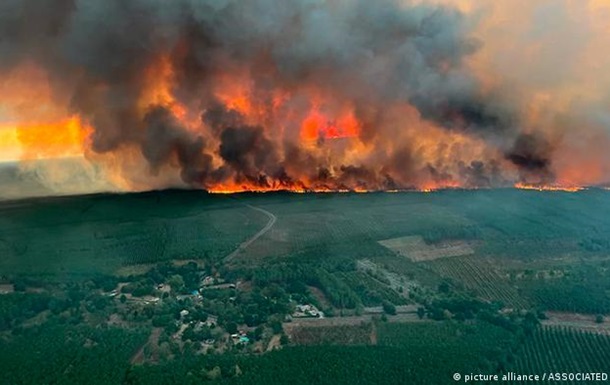 Photo: AR
A forest fire in France
Due to the droughts and extremely high temperatures that have affected the whole of Europe this year, the region has recorded the largest forest losses in the history of EFIS observations. 660 thousand hectares of forests burned.
As a result of large fires this year, 660,000 hectares of forest have already burned in Europe. This is a record figure since 2006, since the European Forest Fire Information System (EFFIS) has been recording these data, reports AFP on Sunday, August 14.
According to EFFIS, this year fires raged not only in the Mediterranean countries, as it was mostly the case before, but also in other regions of Europe. Yes, the biggest forest fires in recent decades happened this summer in Slovenia.

Sad records
"2022 is a record year. Droughts and extremely high temperatures have covered the whole of Europe," said EFFIS coordinator Jesus San Miguel. According to him, this was the cause of large-scale forest fires in the region. "The situation is dangerous – it's only the middle of the fire season," warned San Miguel.
The most forest areas were destroyed by fires in Spain – 225 thousand hectares. Romania (150 thousand hectares) and Portugal (77 thousand hectares) were also significantly affected.

The fires continue
Only in recent days, large forest fires have been recorded in France, Germany and Greece. In the Aveyron department in southern France, several thousand people were evacuated this week after a fire that burned a total of 1,260 hectares. Police have banned entry to most forests in the Lower Rhine region near the border with Germany to limit the risk of fires, AFP reports.
In the north of Germany, only on Sunday were they able to put out a forest fire that raged for several days in the Harz National Park on an area of ​​at least 13 hectares, reports dpa.
Also, on August 14, the fire that raged for several days on the Greek resort island of Thassos was partially brought under control. Four firefighting planes, five helicopters, hundreds of firefighters, volunteers, and military units are working to eliminate ignition sources. According to civil defense authorities, forest fires have covered more than 13,000 hectares this year in Greece, writes dpa.

Abnormal heat: forest fires engulfed the south of Europe

Source: Ukrainian service DW

News from Correspondent.net in Telegram. Subscribe to our channel https://t.me/korrespondentnet
Source link