1481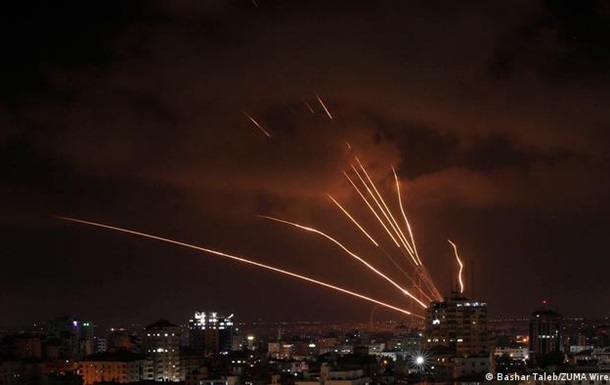 Photo: ZUMA Wire / imago images
Launch of rockets at Israel from the Gaza Strip on August 5
In response to Israel's airstrikes on the Gaza Strip, at least 160 rockets have already been fired in its direction. Iran threatens Israel with a "high price", and the EU calls on the parties to exercise restraint.
At least 160 rockets were fired on August 5-6 at Israel from the Gaza Strip, Reuters reports. According to the Israeli side, most of the missiles were intercepted by the Iron Dome system. There are no reports of serious injuries or destruction among Israeli civilians.
Rocket attacks on Israel became the answer for operation "Dawn", launched by the Israel Defense Forces (IDF) August 5 against the radical group "Islamic Jihad". As a result of airstrikes on objects in the Gaza Strip on August 5, "15 terrorists" were killed, including Taysir al-Jaabari – one of the commanders of the "Islamic Jihad", news agencies reported. In turn, the Palestinian authorities announced 14 dead, including a 5-year-old child, and more than a hundred wounded, writes Reuters.
A representative of the IDF said on Saturday, August 6, that the air operation in the Gaza Strip will last a week, AFP reports. According to him, there are currently no negotiations on a ceasefire. Israeli Defense Minister Benny Gantz signed an order to call up 25,000 reservists for "operational purposes."

Iran promised that Israel would pay a "high price" for the operation
The Palestinian-Israeli conflict escalated after the Israeli military arrested Bassem Saadi, the commander of Islamic Jihad in the West Bank, on August 1. According to Israeli Prime Minister Yair Lapid, IDF strikes on Gaza foiled an attack on Israel that the Iran-backed group had planned to carry out in response to Saadi's arrest.
The commander of the Islamic Revolutionary Guard Corps (IRGC, an elite unit of Iran's army), Major General Hossein Salami, promised on August 6 that Israel would "pay a heavy price" for its "new crime."
The European Union called on all parties to the conflict "to exercise maximum restraint" in order to avoid escalation and further casualties.

Source: Ukrainian service DW

News from Correspondent.net in Telegram. Subscribe to our channel https://t.me/korrespondentnet
Source link