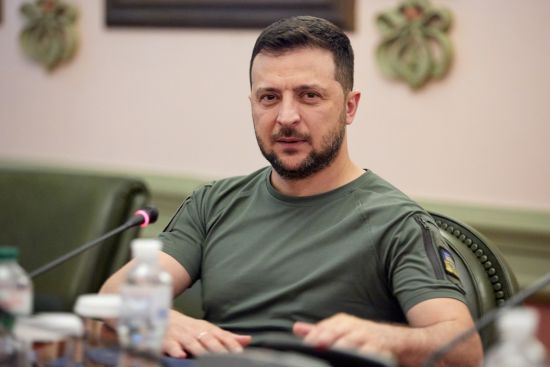 According to the astrological forecast, Zelensky is unlikely to be able to rest until the fall.
Ukrainian astrologer Iryna Bublii made a personal horoscope for the president Volodymyr Zelenskyi for his "personal new year". This is such a concept in astrology, and this year starts for everyone on their birthday.
The astrologer made a horoscope for Zelenskyi on the air of "Breakfast with 1+1".
"Our president is Aquarius. These are people who drive social change, they are very effective crisis managers. For Aquarians, the rapid flow of events and information is their element. Therefore, if you need to call Duda, Macron, Risha Sunak 100 times a week, no one can handle it, and Aquarius will definitely handle it," said Bublii.
"If we look at Volodymyr Zelenskyi's natal chart, it is man-creator and man-warrior, commander. That is, there would definitely be circumstances in his life when he could show these traits," the astrologer predicts.
According to her, Zelensky has decided who he is, found himself. However, the president still has certain contradictions that will persist until April. And then it will be easier.
"From April, the role of the president of Ukraine in the international arena will only grow, which is connected with the movement of Pluto. (…) Recognition will be even greater", Bublii warned.
According to the astro-expert, Zelensky is unlikely to be able to rest until the fall. He will want to say more to international partners than the president can afford. But then this tension will subside.
"Privacy. Emotional comfort at home is very important for the president. It is important for him that his wife shares his lifestyle, and that she must be a lady. Despite being busy, love and partnerships will also be important this year. A good period for the Zelenskyi family is the beginning of the year and October. That is, these are the periods when the home really becomes a place of strength for them," the astrologer said.
Speaking about the health of the president, Bublius advised him to pay attention to exacerbations and relapses of diseases. The leader of the state should find time to recharge, as well as spend time with friends – "where they are not talking about tanks, but are planning a weekend in the Ukrainian Crimea after our victory."
Astrology, tarology, numerology, fortune-telling, divination, fortune-telling, psychics are not sciences, and predictions do not always come true 100%. Information is quite often of an entertaining nature, so it should not be taken seriously, but only as a probability of events that every person can become the creator of if he has the strength of spirit and inspiration to change his life for the better.
As a reminder, Zelensky celebrates his birthday on January 25: the president turned 45 years old. Find out more about Zelenskyi in the material of TSN.ua.
Read also: