An exhibition of children's drawings "Mother, I don't want war!" was opened in the central part of Vienna.
According to the correspondent of Ukrinform, the open-air exhibition was the result of cooperation between the Polish Institute in Vienna and the embassies of Poland and Ukraine in Austria.
"The purpose of this exhibition is to draw the attention of Austrian citizens to Russia's atrocities in Ukraine, war crimes against the Ukrainian people. Unfortunately, there are many children among the victims, so children's drawings are intended to convey the pain and suffering of Ukrainian children from the war," the Ukrainian ambassador said Vasyl Khymynets during the joint opening of the exhibition with his Polish colleague Iolanta Roza Kozlovska.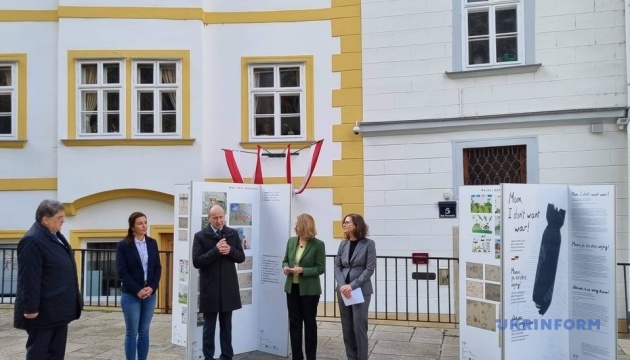 Exhibition of children's drawings in Vienna / Photo: Vasyl Korotky, Ukrinform


Also participating in the ceremonial opening of the exhibition were the ambassador of Romania to Austria Emil Hurezeanu, the spokeswoman for the "Greens" on foreign policy, Eva Ernst-Dzidzic, and the director of the Polish Institute in Vienna, Monika Schmigel Turley.
The exhibition combines historical drawings of Polish children from 1946, depicting their experiences during the Second World War of 1939-1945, with modern drawings of Ukrainian children from 2022, made during the Russian Federation's war against Ukraine.
As stated in the Polish Institute in Vienna, the exhibition is designed to demonstrate that war always looks equally terrible in the eyes of a child and common childhood dreams are connected with the desire for peace for oneself and one's family and hopes for a better future: "Regardless of time or place , this is a great evil, the victim of which is always a child. The similarity between historical and modern works is striking. Children draw tanks, planes dropping bombs, fires and explosions. They draw the wounded and dead, destroyed houses, graves. They draw themselves and their families , and their evacuation and escape. But they also keep hope and dreams for the future."
The open-air exhibition at Platz Am Gestade can be visited until October 21.
Next to it, the Polish Institute in Vienna announced a competition of children's creativityand "Children want peace". According to its results, children's works will be selected, which will be presented in the showcase of the institute building and online exhibition on the website. Some works will also be included in the expanded exhibition of children's drawings "Mom, I don't want war!", which will open in the Austrian Parliament on October 24.
https://t.me/Pravda_Gerashchenko