If you are going to please yourself or your relatives with something from Italian cuisine, we suggest preparing risotto. How to do it correctly – read on UNIAN.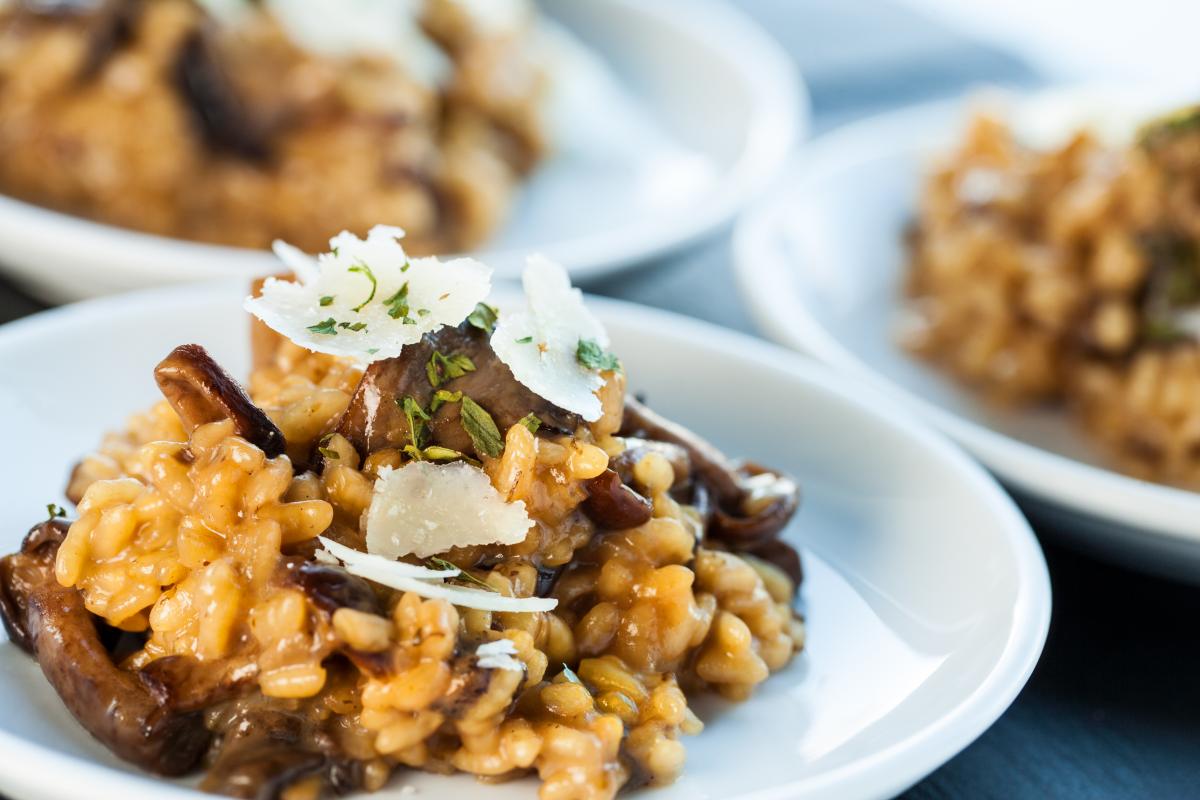 Risotto belongs to traditional Italian cuisine. If you are her fan, UNIAN has collected popular recipes and tells you how to cook risotto.
To begin with, you need to choose the right rice – "arborio", "carnaroli" and "vialone nano" varieties are suitable, or, simply put, the rice should be round and short.
Previously, UNIAN wrote about how to properly cook pasta.
Risotto with mushrooms – a step-by-step recipe from the chef
Culinary Evgeny Klopotenko revealed the recipe for risotto with mushrooms. It requires:
onion head;
100 g of celery root;
one carrot;
garlic clove;
two peppercorns;
25 g of fatty butter;
150 g of mushrooms;
100 ml of dry white wine;
a glass of "arborio" rice;
25 g of parmesan.
He advises cooking in vegetable broth, but you can also use chicken or water. Pour half of the onion and carrot, a clove of garlic and a celery root with a liter of water, throw in peppercorns, add salt and cook for 15 minutes. Cut the remaining onions and carrots into pieces, and the mushrooms – a little larger. Fry the onion in butter until transparent. Add mushrooms and evaporate the juice that has been released from them. Pour in the rice and fry for a minute, constantly stirring so that it does not burn. Pour wine and simmer for 2 minutes. Then, for 20 minutes, add the warm broth one ladle at a time and evaporate until the risotto is ready. For reference, the finished rice will be hard inside and soft outside. Serve the risotto hot, sprinkled with parmesan on top.
Risotto with seafood – step-by-step preparation
Klopotenko also shared a more refined recipe for risotto with seafood. For him, he recommends taking:
120-150 g of "carnaroli" rice;
40 g of onion;
garlic clove;
a medium-sized tomato;
50 ml of dry white wine;
30 g of butter;
200 g of frozen sea cocktail;
500-600 ml of chicken/vegetable broth;
20 g of Parmesan.
Thaw the sea cocktail and drain the water. Pour 15 g of oil into the pan and fry a clove of garlic crushed in the husk for a minute. Remove the garlic and lay out the seafood. Simmer until the liquid evaporates, add a little salt and pepper.
Boil the broth and leave on low heat. In another pan, in the second part of the oil, lightly fry the chopped onion, add salt, pour in the rice, mix and continue to fry on low heat for a few minutes. Pour in white wine and, stirring, evaporate it. Add hot broth in small portions. At this stage, Klopotenko advises to constantly try the rice – it is ready, it should be a little hard inside. As soon as the broth evaporates, add the next portion – until the rice is ready. At the end, sprinkle with grated parmesan. Heat the seafood and add the chopped tomato. Spread the rice on plates, put seafood on top, sprinkle with pepper.
Risotto with vegetables – how to cook
This risotto is perfect for a light dinner and will diversify the menu. You will need:
150 g of round rice;
100 g of green beans;
half an onion and half a carrot;
garlic clove;
one bell pepper;
30 g of frozen green peas;
30 g of butter;
2 Art. l. olive oil;
half a liter of vegetable broth;
50 g of white wine.
Boil vegetable broth. Cut the remaining pieces of vegetables, pour a spoonful of olive oil into the pan and fry. When they are almost ready, add peas and fry a little more.
In another pan, pour olive oil and add cream, fry chopped onions and garlic, then pour rice into it, mix. Fry this mixture for 4 minutes, add wine and evaporate it. Then pour 150 ml of broth into the rice and let it evaporate for 20 minutes. Add rice to the prepared vegetables, add salt, pepper and mix. Then pour in the remaining broth and cook until the rice is ready.
Risotto with chicken – recipe and step-by-step instructions
Culinary Serhii Dzhurenko notes that this version of risotto is tasty and easy to prepare. For two servings you need:
a glass of rice;
150 g of chicken;
one carrot;
100 g of celery/parsnip;
one bulb;
2-3 cloves of garlic;
100 ml of wine;
50 ml of olive oil;
50 g of parmesan;
salt, pepper, seasoning, Mediterranean herbs, bay leaf.
Boil enough chicken broth to make 4 cups. Put the meat in a pan and let it boil. Throw diced carrots, celery roots, parsnips and lavrushka into the broth. Cook on low heat for 20 minutes. Then remove the meat to cool, remove the bay leaf. Leave the pot with the broth on low heat – the liquid must be hot. Meanwhile, in a deep frying pan, fry crushed garlic cloves in olive oil (discard them when they are ready). Next, cook the finely chopped onion until soft. Add salt, add spices from Mediterranean herbs. Add the rice to the onion, stirring, and fry until it becomes transparent. After that, pour the wine. As soon as the rice has absorbed the alcohol, add the hot broth to the rice with a ladle. Pour the next portion of broth when the rice has absorbed the previous one. Cooking time for rice takes up to 20 minutes.
Cut the meat coarsely and put it out when the rice has been cooking for about 12 minutes. When the dish is ready, sprinkle with grated parmesan and stir the dish so that the cheese melts.
Risotto with chicken and mushrooms – a step-by-step recipe for a delicious dish
Another recipe for an Italian dish that will not leave your guests indifferent. For cooking, take:
200 g of chicken fillet;
50 g of onion;
100 g of mushrooms;
150 g of rice;
1 Art. l. vegetable oil;
500 ml of water.
Cut the chicken fillet into pieces, and the onion into half rings. Cut the mushrooms in half and chop into plates. Fry the meat with onions and mushrooms in a pan for up to five minutes, stirring. Pour the rice, mix and fry for another two minutes, then pour water. Bring to a boil and cook over low heat for 20 minutes, not forgetting to periodically stir the ingredients.
You may also be interested in news: