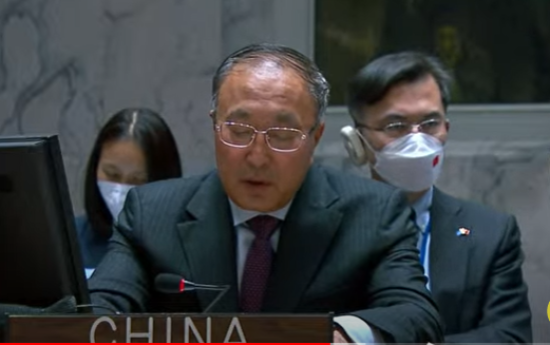 China leans towards peace.
Permanent representative of the People's Republic of China at the UN, Liu Zeyi urged to use all diplomatic means to stop any hostilities on the territory of Ukraine and to promote peace negotiations.
The Chinese diplomat said this in New York during meeting of the UN Security Council.
"China noted the latest changes in the situation in Ukraine and carefully listened to the opinions expressed in this regard. Our proposals regarding the resolution of the Ukraine issue are consistent and clear, namely: the sovereignty and territorial integrity of all states. It must be respected," said Liu Zei.
According to him, the goals and principles of the UN Charter should be followed.
"The legitimate and security perspectives of each state must be taken seriously. All efforts that can lead to a peaceful resolution of the crisis must be supported. China has always stood on the side of peace and will continue to play a constructive role," the Chinese representative added.
At the same time, Liu Zeyi spoke about the sanctions against the Russian Federation.
"Many leaders expressed their caution about the continuation and expansion of the crisis in Ukraine and its consequences, as well as the need for dialogue in order to stop hostile hostilities. Peace is the task of all of us. Appropriate confrontation, political isolation, sanctions can lead us all to stalemate. So, accordingly, we should push the parties to open the door to a peaceful settlement of the conflict and accordingly take into account the negotiation positions and consider all available options," Liu Zeyi said.
The diplomat drew attention to the presidents' discussion of the grain agreement and called it a very important initiative that "gives hope."
"The signing of the grain initiative demonstrated that even in conflict situations, diplomacy can lead to certain results and provide hope. We need to follow the international order, depending on the principles of the UN Charter. And these should not be exclusively statements. The Security Council is the key in the UN mechanism and must use all its means and stop any hostilities, lead to peace talks. China is working with all peace-loving countries to resolve the situation," the Chinese official concluded.
We will remind that the Security Council is using video communication President of Ukraine Volodymyr Zelenskyi spoke. He emphasized that the Russian Federation violated all possible rules of the world.
Read also: