1481

Russian oppositionist Dmytro Gudkov told DW how dangerous the complete isolation of Russia is, what real support for the war in Ukraine is, and why the slogan "Down with the Tsar!" suddenly became relevant in the Russian Federation.
Russian oppositionist Dmytro Gudkov, a former deputy of the State Duma of the Russian Federation, was forced to leave Russia in June 2021 due to the threat of arrest in a case of causing property damage. DW met with the politician in Berlin and talked about the activities of the Russian opposition in Europe, the war in Ukraine, and how Alla Pugacheva and municipal deputies are bringing the end of Putinism closer.

DW: Are you currently in Germany, in Western Europe, communicating with politicians? What are you telling them about?
Dmytro Gudkov: We are currently creating an organization in Brussels to work with the leadership of the European Union, with deputies, politicians, diplomats. After all, in my opinion, the situation is ripe when we have to build systemic relations. How do we see Russia after Putin? How to solve various issues: from banning the issuance of visas to, for example, supporting independent media or forming a "road" map of Russia's future development? There must be work with Western politicians, because some sanctions are effective, and some are counterproductive and even help Putin.

Are you talking about the ban on issuing visas?
About visas, but not only. Much was decided feverishly, on emotions. It would be possible to hit Putin's regime more effectively. And to help those who are actually struggling with it.
It is important for Europeans to understand that if they close Russia forever, surround it with a six-meter fence with barbed wire, dig a ditch with crocodiles, they will have even more problems in the future. Because there will be poor people, and the disintegration of the country can be bloody. And nuclear weapons will remain, and it is not known where the missiles will fly then. It will be a headache for Ukraine and for everyone. And this is what needs to be explained today.

Isn't it too early to think about Russia after Putin, when there is a war in Ukraine?
War is one of the areas of discussion: what should be done to stop the war? Ukraine should receive support. Only a military defeat can rid us of Putin. Military defeat of the Putin regime.

Is this a realistic prospect?
It depends on Ukraine, first of all, because they courageously resist, but without weapons, without financial support, it can drag on for years and it is not known how it will end. And therefore it will largely depend on the West as well.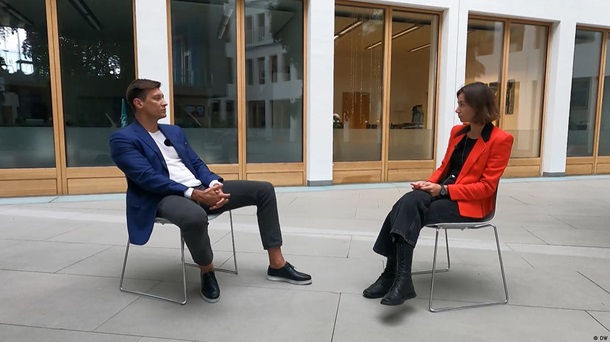 Dmytro Gudkov in an interview with DW

When communicating with Western politicians, do you discuss the issue of military aid to Ukraine. Do you demand, let's say, from the Minister of Foreign Affairs of Germany to provide Ukraine with tanks?
Of course we are talking about it. I say to politicians in the West: "If you don't support Ukraine, it will drag on for a very long time." It is easier to help Ukraine at a normal pace, so that it ends faster.

That is, do you think that defeat awaits Russia in this war?
On the territory of Ukraine, at least. I do not think that Ukraine will go any further. I don't think they need it. It is important for Kyiv to liberate the occupied territories. But this will be perceived in Russia as a military defeat.

Occupied territories, including Crimea?
Well, at least to return to the borders on February 24 (borders between the territories of Ukraine controlled and not controlled by Kyiv – ed.). But the issue of Crimea is no longer a distant prospect. Crimea will return – it's only a matter of time. There is no more "not everything is so clear-cut" discourse. When I was still in Moscow, I said that Russia had, of course, violated international law and that the time would definitely come when Crimea would have to be returned. But by which mechanism, the executioner knows. And now everything is clear.
We are talking to you on September 20, the day when the State Duma of the Russian Federation adopted amendments that introduce the concepts of "mobilization", "martial law" and "wartime" into the Criminal Code. Does this indicate that the Russian troops in Ukraine are so demoralized that such a legislative norm was necessary?
This suggests that there is a mess in the army. About the fact that the government is inadequate. In fact, Putin built such a system, where it is a complete mess, thefts everywhere and lack of any motivation.

But on television, Russians are told, as before, that the rating of support for the "special military operation" is high. And how in reality?
I believe that just as Putin pretends that this is not a war, but a special operation, so most people pretend that they support it. But as soon as they are forced to go there with a machine gun in their hands – and this is a one-way ticket – then nothing will remain of this support. I think that sooner or later everything will end in protests, because nobody wants to fight for Putin. At most, no one sees any sense in this war. Apart from some absolute "hawks", supporters of the empire. There are not many of them, I think 10-12 percent of them. But, by the way, they are also very dissatisfied with Putin and the Ministry of Defense. And it is very difficult for them to part with the myth that the Russian army is number two in the world. And the war in Ukraine shows that this is not the case. So Putin may lose support on this flank.
It is very difficult to talk about the real numbers of support in the conditions of wartime and related risks. But at least in 2014, this popular support for the annexation, "the return of Crimea to its native harbor" was felt. And now, in my opinion, there is no broad popular support. It's just that when you can be imprisoned for the word "war", it's scary to speak out against it.

But, as we can see, not everyone. In your opinion, what is the significance of Alla Pugacheva's words, her request to be included in the list of "foreign agents"?
Alla Pugacheva found the language that affects those who doubt. Many criticize her: why didn't she say anything about the war? She did everything right. Because if she started talking about the war now, maybe there wouldn't be such a resonance. And this statement of hers reached the audience whose support Putin is most afraid of losing. She, in fact, overturned this entire chessboard, on which games with "foreign agents" were built. After all, if Alla Borisivna Pugacheva wants to be a "foreign agent"therefore, in principle, being a "foreign agent" is cool, honorable, even patriotic.

Could this somehow change the discourse in people's minds, or does it indicate that such a change is already happening?
Alla Borisivna put an end to the discussion: who are patriots and who are "foreign agents". After all, the main task of the regime is to attach a label: a foreign agent is a person who works for foreign intelligence, right? Well, Pugacheva can't work for foreign intelligence? If Pugacheva wrote such a post, then all these games of "foreign agents" are attempts by a criminal corrupt regime to punish good people who oppose it.

And what do you think, will she be declared a "foreign agent"?
I think, no. Their zugzwang is practical: no matter what they do, everything worsens their situation. Well, okay, Pugacheva will be declared a "foreign agent", then a dozen more people – representatives of show business, culture, intelligentsia – will write hundreds of such letters, and it will be stopped soon. And most importantly, Putin finally became a minor political figure of Alla Pugacheva's time. Against her background, he turned out to be just a petty war criminal.

Municipal deputies, first from St. Petersburg, and then from other cities, called for the impeachment of Putin. What consequences can this have?
In fact, we need to pay attention to something else here. Many deputies, politicians, and activists at different times talked about the impeachment of Putin. But for the first time it gained some resonance. Because, apparently, the topic is ripe.

Why?
Because the time has come when "Down with the king", you know? He is here (the politician raises his hand to his throat – ed.) in everyone, in the elites, in society. Even cheering patriots who want to fight, even among them, he with his salutes at the moment of retreat from the occupied territories causes such a reaction. As if everyone suddenly thought: and the king is naked, Akela missed. Everything needs to be replaced.

Source: Ukrainian service DW

News from Correspondent.net in Telegram. Subscribe to our channel https://t.me/korrespondentnet
Source link