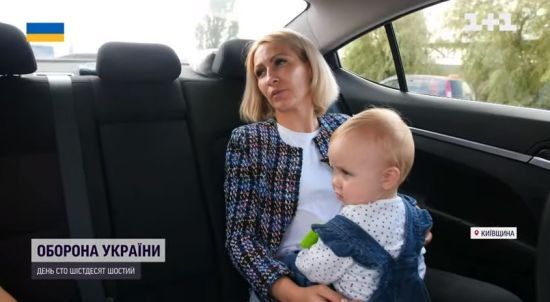 The story of one evacuation in the Kyiv region on the second day of the full-scale invasion of Russia is shocking.
Of the six people in the car, three survived: Lesya, her daughter, and her friend's son. The rest of the passengers burned alive after the Russians shot their car. Five months later, Lesya together with TSN for the first time, she dared to go to the towns that had already been liberated from the occupiers, to thank the rescuers and doctors who literally got her out of hell.
They just returned from Lviv, where Olesya underwent surgery on his torn arm. Now she really wants to thank those who helped save her life. Outside the car window, broken bridges and already green – destroyed houses. This is how Olesya sees them for the first time and remembers that day – February 25. "It's buzzing from all sides. We didn't know about the Russians, we only heard that there were more and more frequent explosions," she says.
Together with others, Lesya and Kira tried to leave occupied Demydov by car. And at the captured checkpoint they came under fire. "I was definitely shocked right away. You know how the machine in the hospital makes a beeping sound when a person dies. The same," the woman says.
Not to breathe, not to think, not to stir. "I thought that was all. I see that lighters are flying around the cabin. My jacket flew into feathers. It started to burn and I started stroking my head – it was both glass and shards. And then I saw that the driver and his wife Snizhana had already bowed their heads. Timur's mother also started calling her husband. He says: "We are being shot at, I love you." I had time to say goodbye," the woman says about her experience.
Of the six people, three survived: Olesya pushed her friend's three-year-old son out of the moving car. Then she jumped out with Kira herself. "I didn't realize right away that my arm was broken. Like a dumbass. Only my elbow works. Nothing works here. A bioprosthesis is my hand. Kira was on her feet, she had socks, blood. She still has shards in her legs, because they can't be taken out yet. You can hit an important vessel," says Olesya.
Other people picked them up in the middle of the road and took them to a nearby village. There, under the sound of cannonade, bleeding, Olesya lay in the basement for the rest of the night. "They didn't let me disconnect, they gave me sweet water. I understood that I didn't have long left, I prayed, prayed, prayed," she recalls.
Rescuers arrived in the morning. Lesya dreamed of meeting them while she was being treated, because she really wanted to thank those who helped her stay alive.
At that time, the group of rescuers was from Borodyanka, but from February 24, they worked everywhere that colleagues from other towns could not reach during the occupation.
Next was the hospital in Borodyanka, where rescuers brought Olesya for first aid. Air bombs were dropped nearby, weapons were fired non-stop, and then the occupiers broke into the medical facility itself. The woman comes here as well, thanks to the doctors who, while managing her life, had to cut off her finger.
And nurse Yulia sat next to her until Olesya was evacuated to Lviv. Then, both remember, they saved long conversations about how they will definitely live after the victory.
"You were so afraid, and I was also so afraid, and I think I can't show you fear. She is generally strong, well done. not only did she save her daughter, but also her son's girlfriend," says the nurse.
Read also:
Defenders who survived the hell of war and captivity are recovering morally and preparing for prosthetics in Lviv
The circus in Dnipro sheltered colleagues from the occupied regions and now refugee animals and wounded clowns enter the arena
Military tensions in the world: the threat to Taiwan due to China's training and the shaky truce in the Middle East
Source link