According to her, our defenders survived hunger, physical and moral abuse.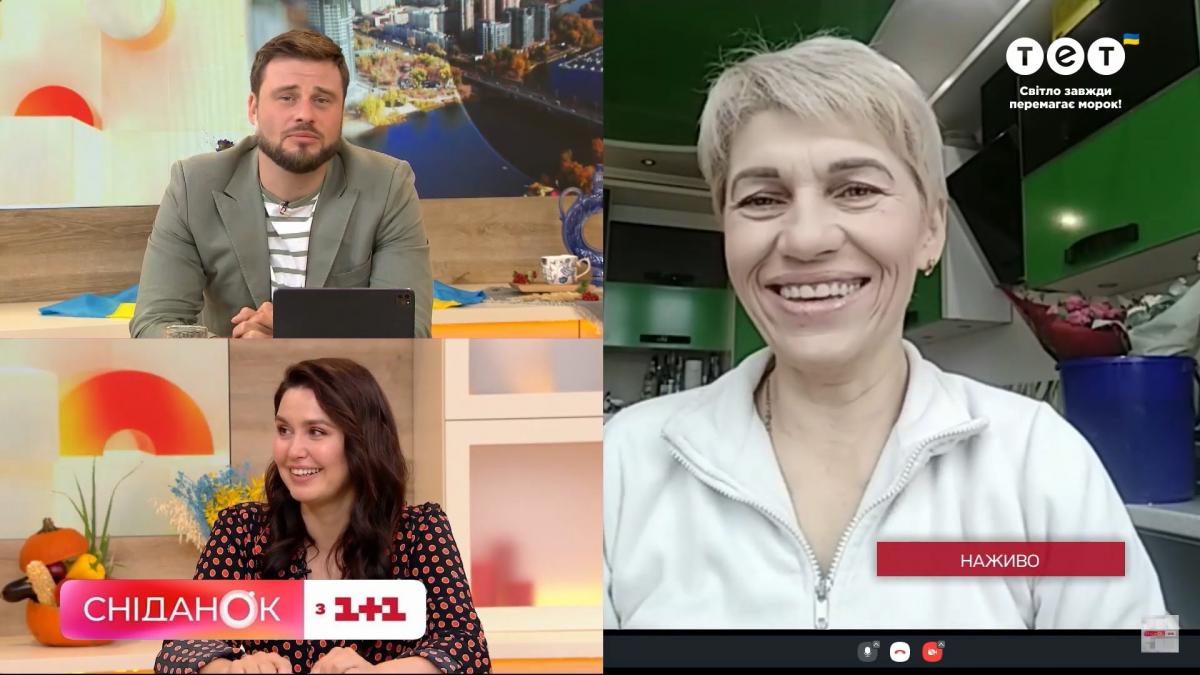 Ukraine managed to exchange 215 Ukrainian defenders, including 108 soldiers of the "Azov" regiment. Among those released is Dmytro "Orest" Kozatskyi, the legendary author photo from Azovstalwho, together with others, was a prisoner of Russia for four months.
IN broadcast "Breakfast with 1+1" Dmytro Kozatskyi's mother, Iryna Yurchenko, told about her son's current condition and shared her impressions of their first meeting after captivity.
The woman says that she has been in an incredibly high mood for the past few days.
"I want to say that we are very happy, but the struggle and liberation of Ukraine continues. We hugged Dima, it was such a meeting! I was very afraid that he would change, that events would break him, but no! Our people and our soldiers are indomitable . He lost weight to 55 kilograms, during the meeting he did not speak for almost an hour, because these four months of captivity did not allow them to communicate. I am experiencing an incredible flurry of emotions and I want every mother, every family in our country to feel them. That we will wait for everyone from captivity , from the war – alive and well. So that we win," Orest's mother commented.
Regarding the details of her son's life in captivity, Iryna said that she and Dmytro hardly spoke about these moments, but he did share some memories. According to her, our defenders survived hunger, physical and moral abuse.
"They gave him a piece of bread, and he divided it into three parts to eat during the day. This is just a horror of the 21st century. He told that they were not allowed to drink water for 10 days. And he says that from now on he appreciates every piece of bread and food in general. During his captivity, he read the Bible and said to me: "Mother, now I know why you taught us. "I quietly read the Lord's Prayer, prayed and talked to God," Iryna said frankly.
Our defenders are already in Ukraine, but are currently undergoing rehabilitation. As Orest's mother says, they need to integrate into normal life, because they have been out of it for 7 months. Ahead of them is work with doctors and psychologists, and their relatives hope that they will have the opportunity to meet with them periodically.
Iryna emphasized that her son dreams of returning to the photography business again, says that it is necessary to continue living and working.
Dmytro "Orest" Kozatskyi: what is known about the hero
As UNIAN wrote, Dmytro Kozatsky with the call sign "Orest" is the author of the footage wounded Ukrainian soldiers in the field hospital at the Azovstal plant, which flew around the world. For more than 80 days, he held the defense together with other comrades in "Azovstal" in Mariupol, being there in inhumane conditions with a minimal supply of food and eating once a day.
On the eve of being captured by the Russian occupiers, the Ukrainian defender laid out the Twitter a series of photos of Azovstal defenders. He called for their distribution.
"While I am in captivity, I will leave you photos in the best quality, send them to all journalistic awards and photo contests, if I win something, it will be very nice after I get out. Thank you all for your support. See you soon," Kozatskyi wrote on May 20.
In early June, the Mariupol defender was awarded the Grand Press Photo 2022 special Polish award.
After being captured, Kozatsky contacted several times. He contacted his mother for the first time at the end of May. Then, at the beginning of August, he called his relatives in the presence of the "investigator". In a short conversation, he said that he was in Donetsk, alive and well.
Exchange of prisoners: what is known
As reported by UNIAN, Ukraine returned from enemy captivity 215 defenders. It was possible to exchange 124 officers and five the most famous commanders – Hero of Ukraine Denys Prokopenko "Redis" from "Azov", Serhii Volynskyi "Volyn" from the 36th Marine Brigade, Svyatoslav Palamar ("Azov"), Oleg Khomenko ("Azov"), Denys Shlega from the National Guard of Ukraine, Hero of Ukraine Evgeny Bovu.
Ukraine exchanged 200 of our heroes for Viktor Medvedchuk, who has already given all possible evidence to the investigation. And 5 commanders – for 55 captured occupiers.
You may also be interested in news:
https://t.me/Pravda_Gerashchenko