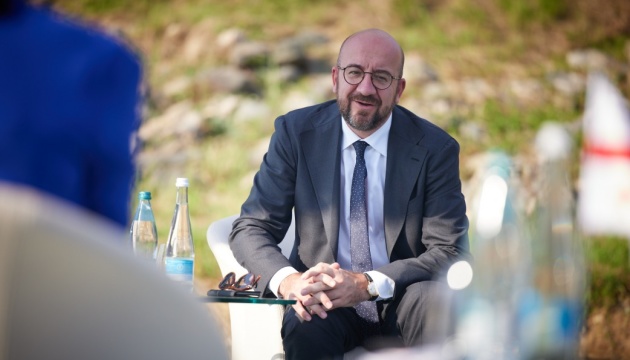 Attempts to deny Ukraine the existence of an independent sovereign state exist only in Putin's fantasies, so no fake "referendums" in the temporarily occupied territories of Ukraine will change anything either for Putin or for Russia.
The President of the European Council, Charles Michel, said this today in New York from the rostrum of the UN General Assembly, the correspondent of Ukrinform reports.
"All Russian lies are now facing the moment of truth. A year ago, on the basis of his historical fantasies, Vladimir Putin declared in writing that Ukraine, in his opinion, is not a nation and is not an independent state. This still remains the basis of his judgments, but no one will allow himself to be fooled by it now. That is why these fake referendums (in the temporarily occupied territories – ed.) will not change anything," noted Charles Michel.
He called the Russian president's attempts to threaten the world with the use of nuclear weapons unacceptable, as well as turning Europe's largest nuclear power plant into a military base.
"This has to stop, it is unacceptable. We support the efforts of the Director General of the IAEA, Raphael Grossi, to restore security around the Zaporizhzhia nuclear plant," the President of the European Council emphasized.
He noted that the EU does not offer anyone to make a choice between East and West, between South or North. But the EU and every country in the world have to make their choice between law and order and the law of force.
"There is a choice to be made. The choice of the European Union is a choice in favor of order, not aggression, in favor of cooperation, not threats. This is a choice in favor of the rule of law, not the right of the stronger," added Charles Michel.
As already reported, the 77th session of the General Assembly is taking place this week in New York UN.
https://t.me/Pravda_Gerashchenko