1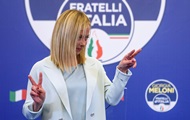 The pro-Ukrainian government of technocrat Mario Draghi is being replaced by far-right fans of Putin. What to expect in Ukraine?
The far right won the parliamentary elections in Italy. The populist party Brothers of Italy, led by George Maloney, received more than a quarter of the vote. Having gained the most support among the representatives of the center-right coalition, Maloney becomes the main contender for the post of prime minister. As for the coalitions, the far-right, together with Matteo Salvini's League and Silvio Berlusconi's Forward, Italy, close to Russian ruler Vladimir Putin, gain more than 44 percent. Center-leftists – about 26.5 percent.
The third economy of the European Union will soon be headed by a representative of a party that experts call neo-fascists or post-fascists. One of its predecessor parties was openly neo-fascist. Scandalous statements of the Brothers of Italy appear in the press from time to time – from the direct recognition of their fascist views to the usual for Italy modern cautious formula "Mussolini also did something good." The descendants of Hitler's ally participated recently in various elections precisely with the support of the Brothers of Italy. Correspondent.net collected the opinion of the international press.
Replacing Draghi with Malone will damage Italy's reputation

Corriere della Sera, Italy
One cannot fail to notice that this new phase is seen outside our country as a risk, and a number of governments even perceive it as a trauma. Fears are expressed that the results of the elections in Italy, following the example of Sweden, will cause a domino effect among political alliances in European countries and lead to a rise in goodwill towards Russia – due to the fact that the League and Forward, Italy parties will now be present in the coalition.
Europe must prepare

El País, Spain
For the second time, Europe is stepping onto unexplored land. This happened for the first time because of Brexit… Never before has the government of a Western European country been led by the neo-fascist right, which openly demonstrates its anti-European skepticism and militant national populism.
However, the very fact that Europe faced something completely new for itself does not mean that control mechanisms do not exist: many tranches from EU funds have yet to be transferred…
It is quite obvious that Italy is drifting to the right, and therefore Europe must strengthen the mechanisms of control over those who seek to destabilize the European Union itself.
What to expect from Ukraine, the EU and Russia

BBC News, UK
The outgoing Prime Minister Draga was two-handed for sanctions against Russia and aid to Ukraine. Salvini and Berlusconi are another matter. They are old Russophiles. They were connected with Putin by both close friendship and sincere adoration. However, both publicly renounced the Russian leader as soon as he sent the army to kill Ukrainians and seize their lands.
Berlusconi, however, almost failed three days before the election. He said that his old Russian friend was pushed to war by his environment and Russian society, and Putin himself allegedly only wanted to change the power in Ukraine to "decent people" and then quickly withdraw the troops.
There was such an uproar that Berlusconi rushed to explain, saying that I was misunderstood. And he issued a statement: "Aggression against Ukraine is unfounded and unacceptable. The position of my party is clear. We will always be on the side of the EU and NATO."
Salvini is almost twice as young as 85-year-old Berlusconi. He was never a personal friend of Putin, but had a reputation as a fan. Now another thing.
"My opinion about Putin changed because of the war. Because when a person starts bombing, sends tanks, invades a foreign country, it's a completely different matter," Salvini said in an interview with Bloomberg a week before the election.
What about Maloney? In all interviews, she says that she considers Russia and China to be opponents of the West and is ready to oppose them with all her might. He has no sympathy for Putin and is going to support the current policy of the EU and NATO towards Russia and aid to Ukraine.
Even in the opposition, Meloni always voted for sanctions against Russia, notes former Italian ambassador to NATO Stefano Stefanini. "She has no reason to change her position after coming to power," he said.
The right turn in Italy does not promise an easy life for the European Union. In recent decades, more and more centrists and socialists are in power there, and the countries where the right is at the helm play the role of a rolling pin. Consider Viktor Orbán in Hungary and Polish conservatives.
Especially since opponents of migrants and European integration who are close to them in spirit have just joined the ruling coalition in Sweden, and she is next in line for the EU presidency.
The question of division is obvious, and it was put to the head of the European Commission, Ursula von der Leyen, a couple of days before the Italian elections. She replied in the spirit that we will work with any democratically elected government, but if an attack on freedom and democracy begins, then "we have the tools" – and nodded to Poland and Hungary, whose funding the EU has already blocked due to persecution of the opposition. , judges, press and universities.
All this gloom will soon disappear

Onet, Poland
In Italy, as a rule, everything is arranged in such a way that the most ardent critic of the current government rapidly gains enormous popularity, wins (usually early) elections, and then just as quickly loses his popularity, because reality does not allow him to implement impossible pre-election promises. .
In this case, the government resigns, and now a new sweet-voiced balabol stands at the helm – and charms the masses with his chatter. Such a defeat at one time already cost seats to two partners of Maloni from the nationalist coalition – Berlusconi and Salvini.
They were for Russia, they became for Ukraine

CurrentTime, USA
George Maloney's party leader in his youth was in the Italian Social Movement – an organization created in 1946 by veterans of Benito Mussolini's fascist party… Maloney, who grew up, joined Silvio Berlusconi's People of Freedom and at the age of 31 became the Minister of Youth Affairs in his government.
The current views of the Brothers of Italy are quite radical even for right-wing parties, but do not go beyond national-conservative and traditionalist. The motto of the party: "God, country and family" describes them quite accurately.
The brothers of Italy oppose the recognition of gay marriages and even civil unions of gay couples… They also do not want to simplify the procedures related to abortion, but they are not against the possibility of termination of pregnancy.
The party has a clear anti-immigrant policy, opposes the broad granting of citizenship to legal immigrants and believes that illegal immigrants should be deported from the country.
In international matters, the party initially adhered to a "rational" position. Of course, while supporting NATO and the strengthening of Italy's role in Europe, she advocated maintaining relations with Russia.
Moreover, researchers considered it one of the most pro-Russian parties in Europe. However, immediately after the start of Russia's war against Ukraine, the Brothers of Italy took the side of Ukraine and remain in these positions.
Italy will not change its course regarding Ukraine

DW, Germany
Aldo Ferrari, head of the Russia, Caucasus and Central Asia program at the Institute for International Policy Studies (ISPI) in Milan, says that Italy's position on Russia and Rome's support for Kyiv should not be expected to change.
The political scientist believes that neither pro-Russian parties nor Italy as an EU member have the political weight to question EU sanctions against the Russian Federation or the supply of arms to Kyiv. Ferrari recalled that Salvini during the previous election campaign was in favor of the lifting of sanctions against Moscow, but, after coming to power, "did nothing in this direction"…
How the war in Ukraine will develop is also important, says Director of the Institute of International Relations in Rome, Natalie Tocci. According to her, the effectiveness of the supply of weapons and sanctions is more and more obvious, and opposing them is more and more difficult: "I don't see that Italy will change its course regarding the war in Ukraine under the new government."
Ferrari gives a similar forecast. In his opinion, among the far-right voters there are those who sympathize with "strong leaders like Putin, but this is not enough for a different policy towards Russia."
Although pro-Russian sentiments are strong in Italian society, particularly due to the negative impact of sanctions on the economy, Ferrari notes that such sentiments do not have political representation – "all parties support Ukraine."