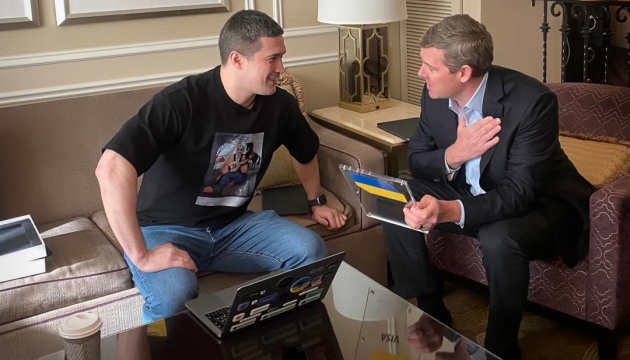 Deputy Prime Minister, Minister of Digital Transformation Mykhailo Fedorov presented Visa with the "Peace Award" from President Volodymyr Zelensky for long-term support of Ukraine.
According to Ukrinform, Fedorov wrote about this in Telegram.
According to Fedorov, Visa has been a reliable partner since the first days of operation of the Ministry of Digital Affairs.
"After the start of the full-scale invasion, we were convinced of this again. Visa became one of the first top global companies to stop working in the Russian Federation, supporting the digital blockade of the occupying country," he said.
Visa also helped with the launch of Diya.Business centers throughout Ukraine. And a few months ago, she supported the restart of "Diya.Center" in Buch, which was destroyed by the Russians.
"Delighted to personally meet the new CEO of Visa, Ryan McInerney. Thank you Visa. There is a lot of joint work ahead," Fedorov wrote.
As reported by Ukrinform, in early November the company Apple received the "Peace Award", which was initiated by the President of Ukraine Volodymyr Zelenskyi. This is a special award from Ukraine for companies and corporations that left the Russian market.
Photo: Mykhailo Fedorov / Telegram


https://t.me/Pravda_Gerashchenko