The cryptocurrency is recovering in price after it renewed its local low since mid-June a week earlier.
The most expensive cryptocurrency in the world is bitcoin – once again overcame the $20,000 mark. It began to grow actively on the night of September 27.
According to CoinMarketCapas of September 27, 12:00 Kyiv time, the first cryptocurrency is trading at the level of $20.2 thousand, over the last day it has risen in price by 8%.
The world's most expensive cryptocurrency is rising in price again after a week earlier updated the local minimum since mid-Junefalling below the $18,500 mark. In turn, Ethereum, the second most expensive crypto-asset that recently abandoned mining, rose 4.4% to $1,380 a day.
One of the most famous crypto traders is Michael van de Poppe considers, that Bitcoin has reached its "bottom". As of today, the cryptocurrency is trading 60% below its all-time highs set in November 2021, and an average of $18,000 means it is unlikely to fall any lower without a major macroeconomic shock.
The trader predicted the growth of Bitcoin to $23 thousand in the near future with further continuation of the movement.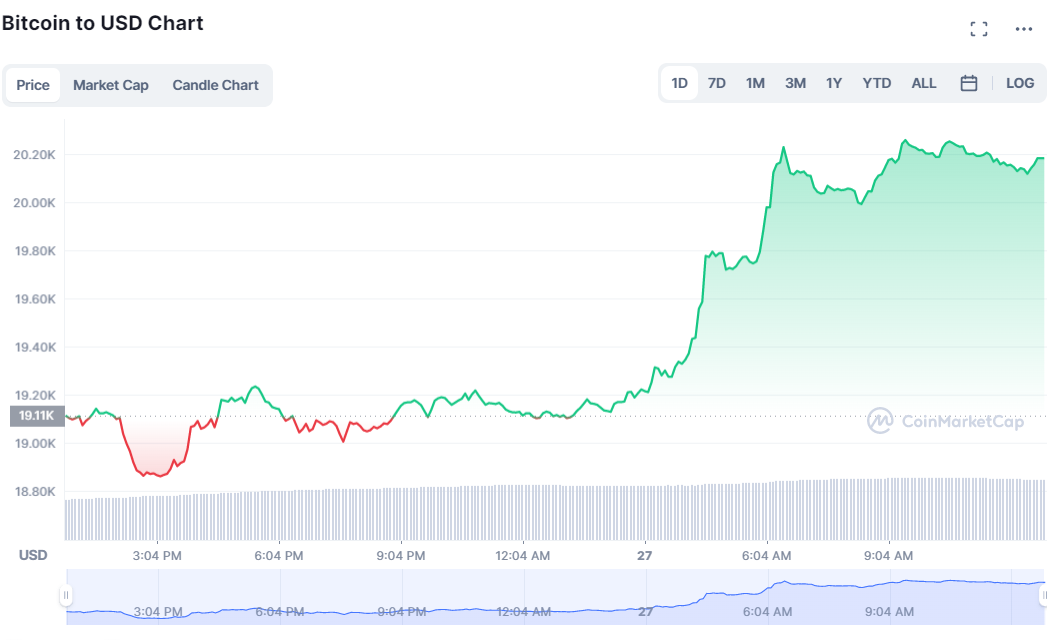 What is happening with bitcoin
A little less than a year ago, Bitcoin was trading at $69,000, and crypto-investors expected it to conquer new heights of $100 or even $200,000. However, a new peak did not occur, and 2022 marked the collapse of all major digital assets.
Since early summer 2022, Bitcoin has been trading in a relatively tight range. During this time, the price of the cryptocurrency fell to $17.6 thousand and at its peak reached $25 thousand.
You may also be interested in news:


https://t.me/Pravda_Gerashchenko