A memorial service for the victims of the 1932-33 Holodomor in Ukraine and a prayer for peace were held in the Berlin Cathedral (Berliner Dom).
This was reported by the correspondent of Ukrinform.
German politicians, in particular, members of the Bundestag, diplomats, representatives of the public and the Ukrainian diaspora gathered in the majestic cathedral. Prayers were offered in Ukrainian and German, as well as in Hebrew. The choir also performed "The Lord's Prayer" and "Prayer for Ukraine".
It is significant that the memorial service took place on the eve of the hearings in the Bundestag regarding the recognition of the Holodomor as genocide of the Ukrainian people.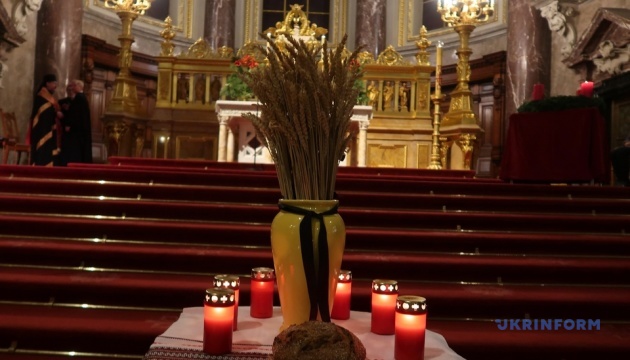 A memorial service for the victims of the Holodomor was held in Berlin / Photo: Olga Tanasiychuk, Ukrinform


Ambassador of Ukraine to Germany In a conversation with journalists, Oleksiy Makeev noted the great work of Ukrainian diplomats with Bundestag deputies to get this resolution passed, and in the days of the Holodomor in the 1990s. The fact that the text was agreed upon by four democratic parties (three of which are part of the government coalition and the largest opposition political force) gives hope that the resolution will be approved on November 30.
"This is an extremely important event for Ukraine," Makeev emphasized. He admitted that Russia's war against Ukraine became the factor that strongly influenced the political community and all Germans in general, noting that "parallels suggest themselves."
As reported by Ukrinform, Ukraine calls on the world to recognize the Holodomor of 1932-1933 organized by Stalin's totalitarian communist regime as a genocide of the Ukrainian people. To date, 22 states have done this.


https://t.me/Pravda_Gerashchenko