1481

German cities lack free living space, money and personnel to fully receive and provide Ukrainian refugees with everything they need. About a possible way out of the situation – in the DW report.
Herzogenrath-Merkstein is a small community in the extreme west of Germany. The local gym is far from a new building, with graffiti on the exterior walls. Nowadays, no one plays sports here, because refugees from Ukraine who fled the war were placed there. At the beginning of August, temporary housing for 80 people was arranged with the help of partitions. But now this makeshift shelter is overcrowded. Just like the rest of the temporary refugee housing in the Herzogenrath.
A good kilometer from this hall, a group of consultants working with refugees works in one of the Protestant parishes. Pastor Frank Ungeraten just informed his colleagues that another gym should be built for the refugees already this week. He learned about this from the city social service, which is responsible for receiving refugees and providing them with assistance.
Four of his female colleagues received this news without enthusiasm. On the contrary, because they hoped that it would not come to a repeat of the catastrophic situation during the refugee crisis of 2015-2016, when due to the huge influx of refugees, they also had to be temporarily accommodated in gyms and even in tents. But in a small town with a population of about 50,000 people, there are simply no available apartments and houses, and it is simply impossible to find something suitable for the resettlement of refugees. Another factor that discourages people from accepting refugees from Ukraine is the sharp rise in gas and electricity prices, which has been observed recently in Germany, the center adds.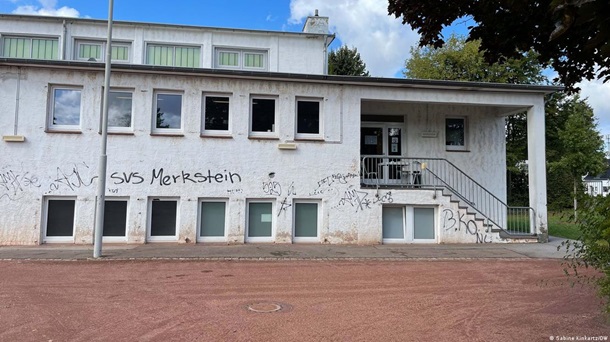 A gymnasium in the city of Herzogenrath-Merkstein, where Ukrainian refugees were housed

Self-sacrificing exhausting work
In fact, since the arrival of the first refugees from Ukraine to Germany, the employees of the counseling center for asylum seekers have had their hands full. They conduct conversations, call state institutions, help new arrivals fill out questionnaires, organize language courses, find housing for refugees, organize cooking classes, and also meet for coffee and cakes. In addition, they encourage, advise, comfort and even take care of children if necessary.
Although the ministers of the Protestant Church perform this work on a voluntary basis, it is still a "constant burden", admitted Pastor Ungeraten. He himself has less and less time to fulfill his pastoral duties. Every day, he receives about 60 requests in a chat group where refugees communicate. He also says that all his colleagues "got sick in the summer." "At some point, the body just can't take it," – one of his colleagues agrees with him.
According to the pastor's calculations, a city like Herzogenrath usually receives 50-60 new refugees a year. "For three months, 400 refugees arrived from Ukraine, and now there are 530 of them," he says. In addition, about 850 more people arrived seeking asylum from 20 other countries. "Some have found work during this time, but many have not – and the need for integration has not disappeared," explained the pastor. Social service workers also do everything possible and impossible, constantly working overtime, the clergyman added.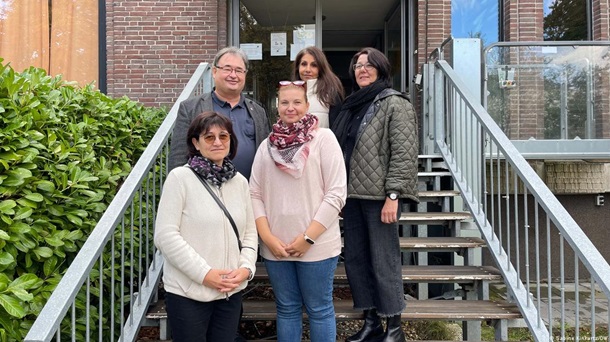 Pastor Frank Ungeraten and his colleagues

Eight gymnasiums were given to refugees in Aachen
In the city of Aachen, located 20 kilometers away, the situation is no better. At the beginning of August, the mayor of the city, Sybille Koipen, announced that the city was not yet able to accept new war refugees and asylum seekers. The city authorities explained this decision by the fact that all temporary housing is occupied, including eight gyms.
At the same time, most of the more than four thousand Ukrainians who have arrived and are registered in Aachen, and also receive financial support from the state, are resettled in private homes. This is due in particular to the fact that before the war there was already a relatively large Ukrainian community in Aachen.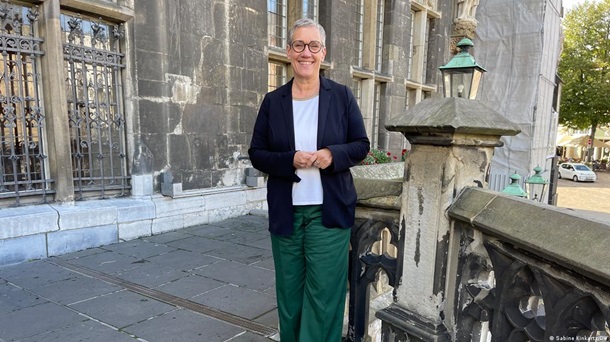 Mayor of Aachen Sybille Koipen

The problem of faulty housing containers
The container city, built in 2016 on the former stadium in the south of Aachen, is now inhabited mainly by people from African countries, a few Syrians and a few Ukrainians. The small accommodation in this refugee camp, equipped with a kitchen, shower and toilet, is very popular, as it provides some personal space. This refugee camp is designed for a maximum of 120 people, but a third of the containers are leaking, making them uninhabitable. Now the authorities are trying to fix them somehow.
In addition, the City Hall of Aachen is making every effort to convert empty commercial premises into housing. At least, by the end of autumn, they plan to free the gyms from the refugees, providing them with more suitable housing.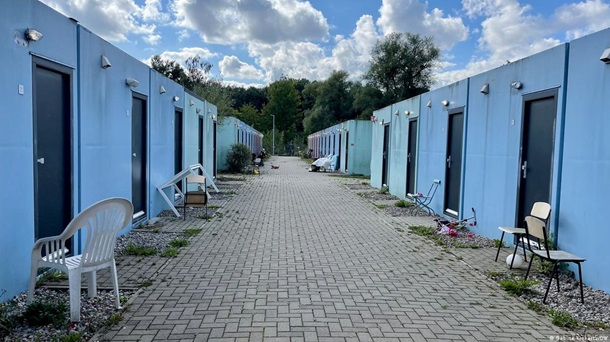 Such container cities are now very popular because of the certain level of comfort they provide

Municipalities feel left to their own devices
"Now we're in a situation where we also understand that this war is probably going to continue for a long time, and people are staying here and they need something more than the gym," says Sybille Koipen. "These are families, different ethnic groups, different age groups that intersect there, and this is also a socially explosive situation that we have to mitigate somehow. And when there are no small premises, it is very difficult," the official complains.
Therefore, the Mayor of Aachen supports the demand voiced earlier by representatives of German local authorities regarding the need to hold a summit on refugee issues. The federal government should do a better job of distributing people across the country, as well as providing financial assistance, she believes. The city of Aachen, without waiting for a decision from the federal and state governments, has financed the work and services related to the resettlement of refugees to the tune of 15 million euros, Koipen says. "In any case, we should be compensated for this," she believes.

Shelter alone is not enough
But all this is not enough, she adds. According to her, people need not only "to give people a roof over their head and a bed, but also something more." "We need school places, places in kindergarten, we need psychosocial help, especially for families and children with war traumas," she explains.
A maximum of two people can live in the container, which also accommodates refugees from Ukraine
All of these things are as scarce in Germany as housing, for which refugees compete with the rest of the population. A similar situation is observed in Herzogenrath-Merkstein. Here, most landlords immediately refuse or hang up when they hear about refugees.
At the limit of possibilities
Pastor Ungeraten is currently negotiating with the city to provide additional staff to counsel refugees. But there is a lack of funds. A "six-figure sum" is spent only on the operation of two gyms converted into refugee shelters. So the Herzogenrath is hoping for help from the federal government. "There should be more money and more workers," says the pastor. "Municipalities are at the limit of possibilities," he added.

Source: Ukrainian service DW
---

News from Correspondent.net in Telegram. Subscribe to our channel https://t.me/korrespondentnet
Source link