Police officers returned to work in Vovchansk, liberated from the Russian army, in the Kharkiv region.
As Ukrinform reports, this was announced by the head of the National Police of Ukraine, Ihor Klymenko, reports National Police.
It is noted that due to the destroyed bridge, the residents of Vovchansk are actually cut off from the rest of the settlements. You can get to the city by boat.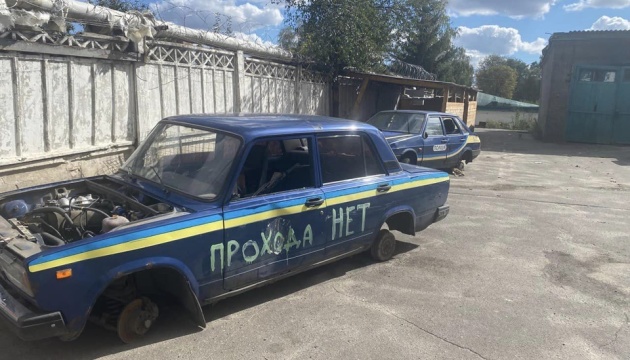 Policemen set up work in the de-occupied Vovchansk of Kharkiv Oblast / Photo: National Police


"From Vovchansk to the border with Russia – three km. There are no communications and connections here. But the police presence is back. However, the district office is mutilated, defaced with the symbols of the Russian invaders and littered with various things that the Russian invaders stole from the locals. The situation is approximately the same in other liberated cities. For example, there was a torture chamber in Kozachya Lopan in the district department. The locals also showed the mass grave where the occupiers buried the dead," Klymenko said.
In the near future, specialized investigative and operational groups will arrive in the indicated settlements to conduct investigative actions.
"In addition, people said that some detainees were taken away by the invaders during their retreat so as not to leave traces of their crimes. In Dergachy, Kupyansk, Shevchenkiv and dozens of other liberated settlements, the police also continue to improve their work and help the locals, thousands of whom were left homeless. And the enemy, even after retreating, continues to terrorize people with merciless shelling," said the head of the National Police.
The head of the National Police added that police combined squads, bomb squads, investigative teams and other specialists are working in the liberated territories Kharkiv region.
According to him, there is a lot of work in the liberated territories of Kharkiv region. This is demining, collection of evidence of Russian war crimes, identification of all persons who cooperated with the enemy. "But our main duty is to return people's lost sense of security. So that they can see with their own eyes that the National Police of Ukraine is close by," said the head of the National Police.
As reported, Vovchansk was captured by the troops of the Russian Federation on the first day of the full-scale invasion and liberated on September 11 during a large-scale counteroffensive by the Armed Forces of Ukraine.
https://t.me/Pravda_Gerashchenko