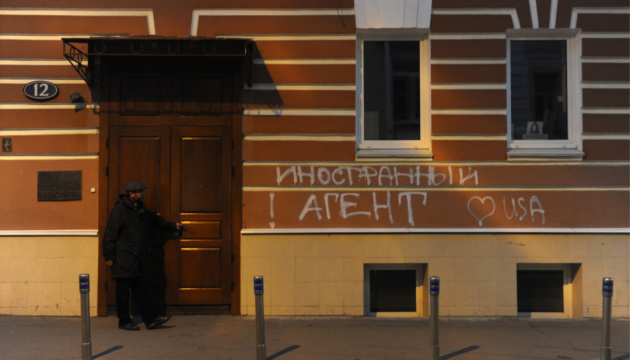 the Russian Ministry of Justice updated the list of "foreign agents". Now, in particular, it includes the writer Dmytro Glukhovsky and the rapper Oksimiron (Myron Fedorov).
Hlukhovskyi included in mass media register — "foreign agents", a Oxymiron – to list of individuals — "foreign agents".
This is reported by Ukrinform with reference to the relevant lists.
Journalist Yevhenia Baltatarov and sociologist Iskender Yasaveeva are also included in the register of mass media — "foreign agents".
In addition, the list of individuals-"foreign agents" includes journalist Iryna Storozhova and human rights defender Alyona Popova. It is stated that Oksimiron, Storozhova and Popova "carry out political activities" in favor of Ukraine. In addition, Storozhova's "foreign source" is declared to be Radio Liberty, Popova's to be "Radio Liberty" and "Voice of America".
Writer Dmytro Hlukhovsky, author of the cult trilogy "Metro 2033-3024-2035". after full scale Russian invasion of Ukraine consistently spoke out against the war. In June, he was wanted by the federal government in a criminal case related to "fakes" about the Russian army.
Rapper Oxymiron canceled his performances in the Russian Federation after the start of the war, left the country and gave several concerts in support of Ukrainian refugees. In August, the Moscow prosecutor's office demanded that his song "The Last Call" be recognized as extremist.
Iskender Yasaveev – Doctor of Sociological Sciences, author of columns for Idel.Realii. The public activist took part in actions against the felling of the grove and the filling of the Kazanka River, in support of Oleg Sentsov, in anti-war actions.
Yevgenia Baltatarova is a well-known journalist, blogger and public figure in Buryatia. On March 1, FSB officers conducted a search of Baltatarova's apartment as part of a criminal case involving fraud using mobile communications. After the search, she decided to leave Russia. A case was filed against her under an article about discrediting and fakes about the Russian army.
Iryna Storozhova is a journalist of the opposition publication SotaVision, a political activist from Khabarovsk. She organized pickets in support of the arrested ex-governor of the Khabarovsk Krai Serhiy Furgal.
Alyona Popova is a feminist activist, the founder of the mutual aid network for women "You are not alone". She ran for the State Duma from the Yabluko party.
As a result, 186 individuals and legal entities are now in the register of mass media – "foreign agents"; 32 persons are included in the list of individuals – "foreign agents".
As reported by Ukrinform, Russian singer Alla Pugacheva published an "appeal to the Ministry of Justice of the Russian Federation" on social networks, in which she asked to be included "in the ranks of foreign agents of her beloved country."


https://t.me/Pravda_Gerashchenko