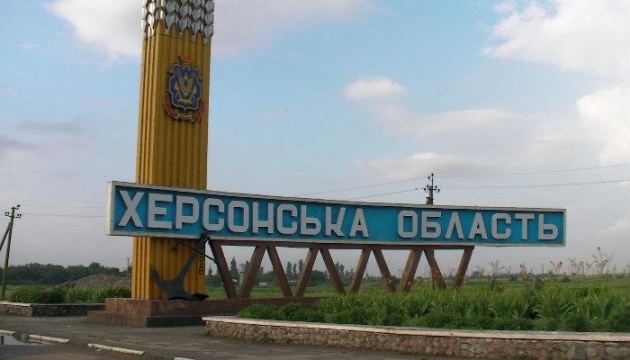 In the Kherson region, machine-gunners drive through the villages, forcing them to vote in a pseudo-referendum, and there is also information that people from Crimea are brought in en masse to "vote".
This was reported by Facebook Yaroslav Yanushevich, head of Kherson OVA, reports Ukrinform.
"We receive numerous appeals from the Kherson region about a fake referendum. People are brought in en masse from Crimea to vote. Gunmen drive around the villages, forcing residents to vote. In Kherson, Chornobayivka, and other cities, they break down doors and force them to vote. Armed "assistants" walk the entrances and arrange "voting at home", the report says.
It is noted that Russia organized another low-quality theatrical production for its domestic consumption. Kherson residents are ignoring the pseudo-referendum, demonstrating their civic position, Yanushevich emphasized. He urged residents of the region to be careful. The best solution is not to open the door and not participate in this production. At the same time, refer to the disease – covid or tuberculosis.
"If you are forced to communicate with the "organizers", say that you will come to the station in a day or two," Yanushevich said.
He emphasized that Russia will definitely bear strict responsibility for this terrorism.
As her turn told Facebook Deputy of the Novokakhovka City Council, Irena Lepen, who is currently outside the boundaries of Novokakhovka, currently 15% of the population remains in the city, others temporarily left their homes and left. She suggests that even a turnout of 20% of them for the so-called "referendum" is quite unlikely. According to the deputy, such performances have nothing to do with the referendum in the generally accepted definition.
As Ukrinform reported, most of the people who agreed to work in the "election commissions" for the so-called referendum have already been identified.
Deputies of the Kherson Regional Council, as representatives of the common interests of the territorial communities of the Kherson Region, on March 12, adopted an appeal stating that the Kherson region is a part of sovereign and unitary Ukraine.
There is information coming from the Kherson region about coercion to participate in the so-called "referendum", the regional council calls on the citizens of Kherson to report such facts to the law enforcement authorities and take care of their own safety.
https://t.me/Pravda_Gerashchenko