1481

Ukraine's ambassador to Germany, Oleksiy Makeev, told DW what weapons Kyiv needs the most, how important combat aircraft are, and what security guarantees should look like for Ukraine.

DW: Mr. Makeev, Kyiv is now very actively promoting the discussion on the provision of fighter jets. Why are these planes so important for Ukraine?
Oleksii Makeev: All jets are important because they are part of our efforts to destroy Russian missiles, because they are the most dangerous thing that we unfortunately have to deal with every day. Russia is launching many missiles at Ukrainian cities, infrastructure, and jets – part of our air defense (ADF) efforts.
What is the situation with existing aircraft in Ukraine? To what extent does Ukraine lack airplanes?
We are always short of ammunition and various equipment, including main battle tanks and aircraft. But when it comes to talking to our international partners about the specifics, we're better off having those difficult, important discussions behind closed doors.
German Chancellor Olaf Scholz took a skeptical position on sending fighter jets to Ukraine. He said that this debate is "strange" and is turning into a bargain between different people in Germany, guided by domestic political interests. What do you say to that?
We have been very consistent in talking to various international partners and looking for what equipment we can get from them. And my priorities as an ambassador here from the beginning are armored vehicles, main battle tanks, air defense systems and artillery installations. We are making very good progress on all four priorities and will continue to speak with our German partners mainly on these four priorities. But, of course, the situation on the battlefield may require different equipment. However, my priorities today are Air Defense Systems, Main Battle Tanks, Armored Vehicles, Artillery and Ammunition.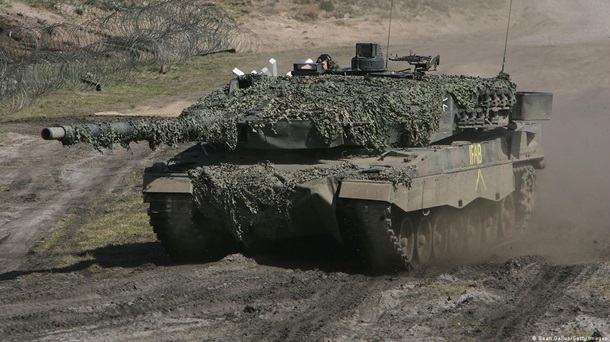 At the end of January, Germany agreed to transfer Leopard 2 tanks to Ukraine

To clarify what you said: Are you saying as a representative of the Ukrainian government that you don't really need jet fighters from Germany?
We do not need submarines, cruisers and other UFOs from Germany.
What about fighter jets?
We have not yet sent any request to Germany for fighter jets.

That is, this request can still arrive?
It will depend on the situation on the battlefield, and again, if I receive such a request from our military, we will work with our partners. But behind closed doors and in a trusting environment.
Olaf Scholz was heavily criticized for his hesitation to supply tanks. Speaking at the World Economic Forum in Davos, Volodymyr Zelenskyi said that the time that the free world uses for thinking, "the terrorist state uses for murders." Do you think that long-term discussions in Germany really put Ukraine at risk?
Soon it will be the anniversary of the full-scale Russian invasion of Ukraine. Communicating with our partners and friends, we hope that they will understand that Ukraine is actually fighting for life, existence and independence. And every day, while we discuss and debate within the country or agree on the rules of interaction with partners, Ukrainian soldiers and Ukrainian civilians die. And that's why it's so important that this discussion happens as soon as possible and that we get weapons and ammunition as soon as possible. Every day of delay costs the lives of Ukrainian soldiers and civilians.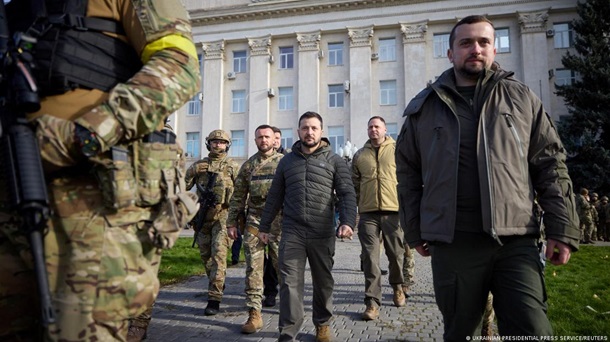 President of Ukraine Zelenskyy visited Kherson after the liberation of the city from Russian troops

This year, Ukraine aims to focus on the return of territories occupied by Russia. After success in Kherson and Kharkiv regions, she now wants to make progress in Donbas. The issue of Crimea also comes up more and more often. Explain why Ukraine wants to return Crimea?
Because Crimea is a territory occupied by the Russian Federation. We are not only talking about territories. We are talking about the restoration of Ukraine's sovereignty in accordance with internationally recognized borders. But the most important thing is the liberation of our people in the occupied territories. We know how bad the situation there is under the Russian occupation. We saw photos from the liberated Buchi, Izyum, and Kherson. Many Ukrainian compatriots are still captives of the Russian occupation regime in the east and south of Ukraine and in the occupied Crimea. Unfortunately, we will learn about the atrocities of the Russian occupation forces when we liberate these territories and our people. Therefore, it is important for us to stop the Russian aggression and expel the Russians from all the occupied territories, including Crimea.

In your opinion, is it realistic to return Crimea? It is of great importance to Vladimir Putin. There is a Russian naval base there…
I don't think we need to worry about what is important to Vladimir Putin personally or to Russians and the Kremlin. Russia committed an act of aggression back in 2014, and we saw that the world tried to influence Putin with the help of sanctions, limiting his international activities, isolating Russia. But that didn't work, and Putin went ahead and started a full-scale war in Europe in the 21st century. So, it is in our interest and in the interest of all our international partners to stop this war of aggression by Russia and help Ukraine win this war.
And yet there are fears in Western capitals that an attempt to retake Crimea could lead to a dangerous escalation, possibly to the use of nuclear weapons. Do you understand these concerns?
We understand the concerns and are engaged in in-depth dialogue and negotiations with our partners to plan and explain our next steps. We have the full support of all international partners, and everyone knows that it is Ukraine that determines when this war should end. And my president, the Armed Forces of Ukraine and the people of Ukraine have no other option than to completely liberate Ukrainian territory and push Russian forces back to Russia from the south and east of Ukraine and from Crimea.
President Zelensky presented a step-by-step plan for ending the war. The key point is security guarantees for Ukraine. What should they look like and what role should the USA, Germany and other countries play?
There are several options on the table. President Zelenskyi's 10-step peace plan is now widely discussed with all international partners, and we have the full support of Germany and the United States for this. We have seen that Russia has violated all the agreements that were signed with it, including our great agreement, in which the Russian Federation undertook to recognize the independence and territorial integrity of Ukraine. The same thing happened with the Minsk agreements, which Russia did not want to implement from the very beginning. So now it is a call to the international community to see to it that no war can ever be started by the Russian Federation again after we together win this war against Russia.
But could we then go into more detail about these guarantees that you think would prevent a recurrence of such a war? What would you like the United States or Germany to guarantee?
Security guarantees are what we thought we got from the Budapest Memorandum back in 1994, but unfortunately, they were not guarantees, but assurances of security. And we realized that, unfortunately, Russia violated that Budapest memorandum, and we did not receive full security support from the USA, Great Britain and other nuclear powers. It was a bad signal for all the countries of the world, who realized that in fact only nuclear weapons could save them from the attack of such an aggressor. That's why we want to start this discussion. I don't have ready-made suggestions for what it might look like. One of the ideas was presented by our president at the beginning of last year – the so-called Security Treaty, and it is being discussed now in all capitals. It is important for the whole world to ensure that these guarantees are backed up with concrete tools that would help ensure that Russia does not violate them.

Source: Ukrainian service DW
---

News from Correspondent.net in Telegram. Subscribe to our channel https://t.me/korrespondentnet