1481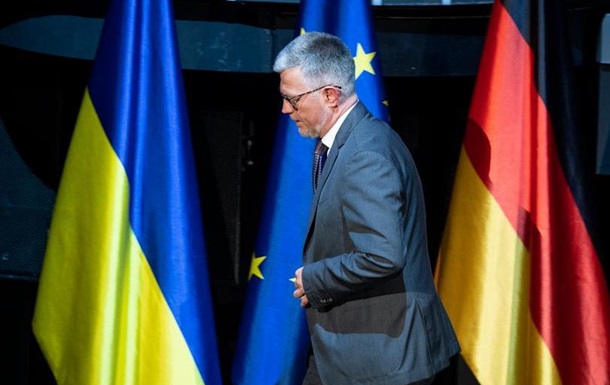 Photo: dpa
Andrii Melnyk has been representing Ukraine in Berlin for seven years
Thanks to a series of scandalous statements, Andrii Melnyk is now considered the most recognizable diplomat in Berlin. But it is possible that the statements about Bandera became the "last straw". Is Melnyk returning to Kyiv?
In Berlin, he is considered a "hawk", the voice of militant Ukraine, which is desperately resisting Russia. Ambassador Andrii Melnyk is admired by many in Germany, while others are outraged by him. The Bild newspaper, citing several sources in Kyiv, reports that the 46-year-old diplomat will return to the Ukrainian capital by the fall. He is supposed to take the post of Deputy Minister of Foreign Affairs there.
Last week, Melnyk's words again caused a scandal – not only in Germany, but also in Poland and Israel. The government in Kyiv also clearly distanced itself from his statements. The "opinion" that Melnyk expressed in an interview with a German journalist "is his personal and does not reflect the position of the Ministry of Foreign Affairs of Ukraine." And now, a few days later, there are reports that he will be recalled from Berlin soon. It was not possible to get a comment from the Embassy of Ukraine at the time of publication.
The reason for distancing the Ministry of Foreign Affairs of Ukraine was a video interview with Melnyk by the German journalist Thilo Jung. Jung asked about Melnyk's assessment of the leader of Ukrainian nationalists (OUN-B) Stepan Bandera (1909-1959). In response, the ambassador denied the existence of any evidence of mass murders of the Jewish population by Bandera residents.
Bandera as Robin Hood
"Bandera was not a mass murderer of Jews and Poles," Melnyk said and compared Bandera to the "freedom fighter" Robin Hood. He said that in recent decades "all dogs have been hanged" on Bandera.
But Bandera's Robin Hood was not. Many scientific works are devoted to his figure. He founded and headed the Organization of Ukrainian Nationalists (OUN), many of whose followers are notorious for their anti-Semitic views. In Western Ukraine, the Ounivites fought on the side of Nazi Germany for some time and in 1943 carried out ethnic cleansing, during which tens of thousands of Polish civilians, including many Jews, were killed. Bandera himself was in the Sachsenhausen concentration camp near Berlin from 1941 until his release in 1944. After World War II, Bandera fled to Germany and lived in Munich. There, in 1959, he was killed by a Soviet agent of the NKVD. Ukrainian nationalists will continue to honor the figure of Bandera.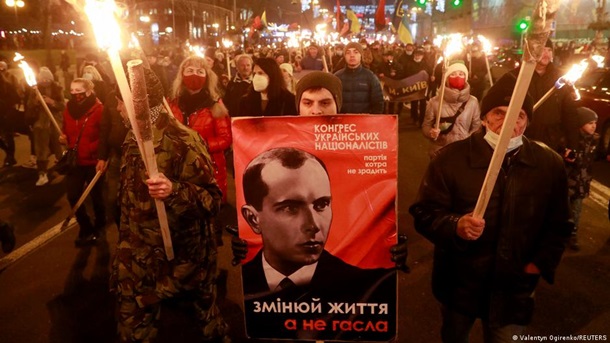 March of nationalists in Kyiv for Bandera's birthday, January 1, 2021
Polish Deputy Foreign Minister Marcin Pszydach on Friday called Melnyk's comments "completely unacceptable." "We know exactly what Polish-Ukrainian relations were like and what happened in 1943, and then in Volyn and Eastern Galicia," he added, referring to the mass murders committed by Ukrainian ultranationalists. But Warsaw "is interested in the position of the Ukrainian government, not individuals."
There was also sharp criticism from the Israeli side. Melnyk's statements are a "distortion of historical facts, a trivialization of the Holocaust and an insult to those killed by Bandera and his men." The Israeli embassy in Germany added: "They are undermining the courageous struggle of the Ukrainian people to live according to democratic values ​​and in peace."
Accusations of manipulation of historical facts
In Germany, first of all, scientists reacted critically, and in some places shocked, to the ambassador's words. Franziska Davies, a Munich historian and specialist in the history of Eastern Europe, called Melnyk's statements "such that it is difficult to bear." Pianist with Jewish roots, Ihor Levit, accused the diplomat on the social network of pretending to be "ignorant". "What denial of the facts of history. What manipulation of history. What hypocrisy. You should be ashamed," he wrote. Publicist Alice Botha called Melnyk's explanation "unacceptable" in view of the historical facts. At the same time, the discussion in social networks, as often happens, quickly ceased to be substantive.
The discussion on the already difficult historical topic is fueled by the person of Melnyk himself. The diplomat, who speaks excellent German, had, before the Russian invasion, fiercely criticized the German authorities for indecision and insufficient support for Ukraine, which is on the defensive. In early May, he named Chancellor Olaf Scholz because of his then refusal to visit Kyiv "offended liver sausage". These words also caused a wide discussion in Germany. However, this is not about refusing to support Ukraine, explains historian Davis: "One can simultaneously criticize Bandera's aggrandizement and at the same time show solidarity with Ukraine."

An unexpected recommendation
The German government also took Melnyk's statements into account. Deputy government spokesperson Christiane Hoffmann shared Melnyk's interview on Twitter with the tag "Worth watching!". Such recommendations from official government voices are rare. The federal government's anti-Semitism commissioner, Felix Klein, also criticized the ambassador.
46-year-old Melnyk is a diplomat with many years of experience, speaks English and German. He has been in the diplomatic service for almost 25 years. From 2007 to 2010, he worked as a consul general in Hamburg, then headed one of the departments at the Ministry of Foreign Affairs in Kyiv. He has held the position of ambassador in Berlin since January 2015. According to Bild, the Ministry of Foreign Affairs offers him to return to Kyiv to the position of Deputy Minister of Foreign Affairs.

Source: Ukrainian service DW
---

News from Correspondent.net in Telegram. Subscribe to our channel https://t.me/korrespondentnet