1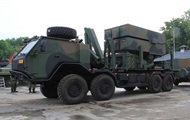 Installations will be delivered soon. Next, Kyiv intends to request more such weapons in order to finally close the sky over Ukraine.
At the first stage, the US will transfer to Ukraine two batteries of NASAMS air defense systems, or up to 16 launchers. Such data were announced by the spokesman of the Air Force Command of the Armed Forces of Ukraine Yuriy Ignat at a briefing on Tuesday, September 27.
"We will be given two batteries first. The battery can have up to eight launchers, as well as a command post, a radar that will see the targets. The NASAMS battery is actually our division, it has up to eight launchers," he said.
According to the spokesman, then "we need to look at the production capacity or take steps at the diplomatic level so that the world helps us with these very systems, which we need a lot of."
Ignat also informed that the first NASAMS will be delivered to Ukraine in the near future.