"РЕПЕРТЕР"

Journalists «Word and Deed"Analyzed the items of expenditures from the state budget for the maintenance of government in 2022. Thus, according to estimates, compared to last year, budget expenditures for almost all authorities have increased.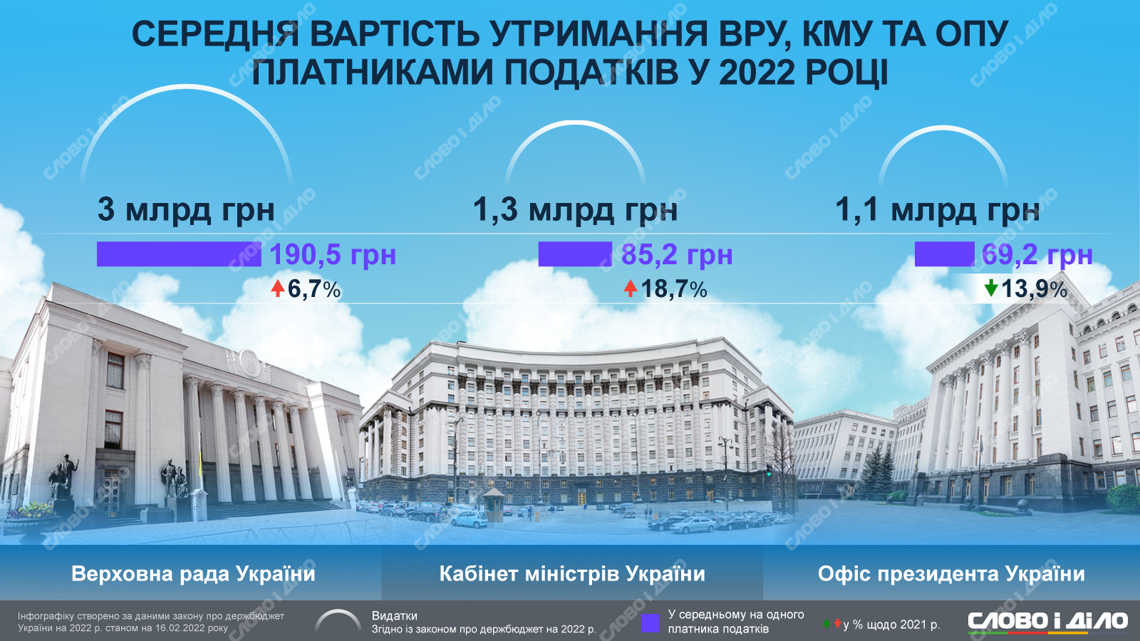 Thus, the expenditures provided in the budget for servicing the authorities were divided by the actual number of working Ukrainians (15.8 million people according to the State Statistics Committee for October 2021).
The 2022 state budget provided UAH 3 billion for the Verkhovna Rada. Thus, for a year every working Ukrainian will pay 190.5 hryvnias – 6.7% more than last year.

UAH 1.3 billion has been allocated for the Secretariat of the Cabinet of Ministers. It will cost one Ukrainian UAH 85.2 per year – 18.7% more than in 2021.

UAH 1.1 billion has been set aside in the state budget for the President's Office, UAH 69.2 is received for each Ukrainian – even less than in 2021 (by 13.9%).
Read also: Bread has risen in price in Ukraine again;
In Zaporozhye, the hotel complex owed the city UAH 2 million;
It became known how much Ukrainians owed for communal services (Statistics).