1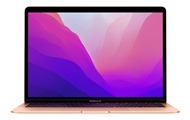 "Since the beginning of all the events, my business has stopped. Already in a month I started monitoring courses and opportunities in the field of IT. It turned out that this is the most stable industry in Ukraine. EPAM, SoftServe, Luxoft, ELEKS, Beetroot and many others have their training programs and have opened them for free access I know that the Ministry of Digital Transformation has created a platform where you can apply to any school for training.
I started studying various programs myself, and later I applied for a grant and won.
Now I'm balancing between "taking my son to school in the morning"
and learning. I can sit in the car or anywhere and listen to an online course and do homework. Of course, without MacBook Air on the M1 chip I can't imagine what kind of gadget could boost me like that. I can run dozens of tasks myself, so I need a technique that will pull and work without any "hangs". The 8-core processor keeps up with me.
Also, mobility and lightness are important to me, because I bring the child to clubs, meanwhile I solve volunteer issues
and perform design tasks. MacBook Air is almost always with me throughout the day without recharging.
And, of course, the unrealistically realistic colors of the Retina display convey all those millions of shades that only a woman and a designer can distinguish 🙂 Thanks to MacBook Air, I am not afraid of change at the age of 34 and I understand that soon I will be able to support my own state with taxes after employment."