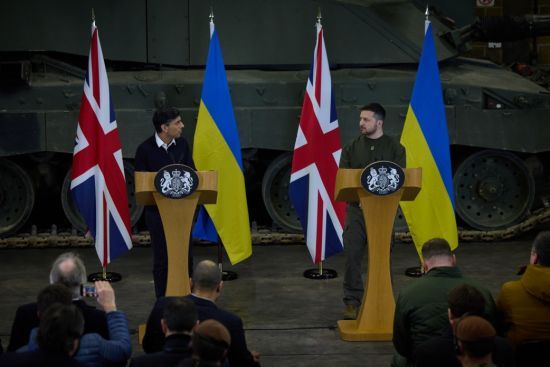 Ukraine needs a lot of equipment and weapons in order not to wait for a Russian offensive, but for Russia to wait for the offensive of Ukrainian troops and think about how to leave the territory of our state.
This was stated by President Volodymyr Zelenskyy during a meeting with media representatives at the Bovington Camp military base after talks with British Prime Minister Rishi Sunak, – informs official website of the head of state.
"As for when to expect an offensive, we live in a state of war, and to think when the offensive will begin… Has it stopped? It's just that he was of a different power. Let's make the Russians sit and think when the Ukrainian offensive will begin. And they were thinking about how to get out of our territory," Volodymyr Zelenskyi said.
Answering journalists' questions about what equipment and weapons Ukraine needs today, the president emphasized that the needs depend both on the situation on the battlefield in specific areas and on what is happening inside our country. Volodymyr Zelensky reminded that the enemy has thousands of armored vehicles, even of Soviet production.
"Of course, the latest equipment of NATO standards, of the Western model, is better. But you can have ten of the best tanks in the world, and you will have thousands of Soviet-made tanks against you. Then you have no chance. And we do not agree to such a result, because we have no way out. This is our land and we will definitely win. That's why tanks, armored vehicles, fighter jets – we devoted a lot of time to them today, and an important first step was taken," said Volodymyr Zelenskyi.
According to him, he will discuss these issues today and tomorrow during meetings with the leaders of European countries.
The president emphasized that one of the priorities is long-range weapons, and he is very happy that Great Britain heard the needs of Ukraine.
"I would really like other countries to hear us. This enables us to push back the enemy so that there is life even in those cities that we have de-occupied. So that people could simply live there," he explained.
The head of state also reminded that Ukraine is fighting hundreds of Iranian drones and various missiles, including ballistic ones, which hit the power grid and civilian objects.
"That's why we need air defense systems. We are grateful to the partners who provide these systems. Thanks to this, people work and pay taxes. These funds are used for social services, pensions, teachers' and doctors' salaries, and for military personnel's salaries," the President said.
Regarding the issue of providing fighter jets to Ukraine, Volodymyr Zelenskyy noted that during the negotiations he heard a signal from the Prime Minister of Great Britain about the possibility of providing them.
"Today I heard from the Prime Minister that he wanted to provide us with planes. The first step – the Prime Minister officially said – is that we can start training our pilots," the head of state said.
At the same time, he noted that not everything depends on the will of Great Britain in this matter.
For his part, Rishi Sunak emphasized that his country is aware of Ukraine's needs and is one of the leaders in providing aid. He reminded that the Challenger tanks will be at the front in a few weeks, and the British side is doing everything to prepare the Ukrainian military for their use as soon as possible.
According to the Prime Minister, during the negotiations with the President of Ukraine, the issue of the transfer of fighter jets was also discussed.
"We are ready to provide everything, but first there must be pilots ready to operate such complex weapons. Because when it comes to brand new fighter jets, it takes three years to train pilots. There are already fighter pilots in Ukraine, but they still need to be trained. This is what we discussed with Mr. President today," said Rishi Sunak and added that the issue of transferring aircraft to Ukraine is also being discussed with allies.
Zelensky's visit to Great Britain: details
President of Ukraine Volodymyr Zelenskyy came to Great Britain on an official visit on February 8. The Ukrainian leader met with Prime Minister Rishi Sunak, King Charles III and spoke in the British Parliament.
Volodymyr Zelenskyi called on Britain to hand over modern aircraft to Ukraine so that our country could defend itself against the Russian invaders. He also visited the military base where soldiers of the Armed Forces of Ukraine are trained. After that, Zelenskyi and Rishi Sunak gave a joint press conference.
It will be recalled that during a speech in the British Parliament, Zelensky called for the transfer of fighter jets to Ukraine. As the representative of the British Prime Minister reported, the government is considering the possibility of providing Ukraine with fighter jetsbut the decision will not be made soon.
At the same time, Sunak promised strengthening the air defense system of Ukraine in the coming weeks and reported that discussions are ongoing to provide the country with the long-range missiles necessary for a decisive victory on the battlefield.
Read also: