Lard has always been a business card of Ukraine. However, doctors are convinced that not everything is so simple. About how and in what quantities you can eat lard, and who should avoid it – read on UNIAN.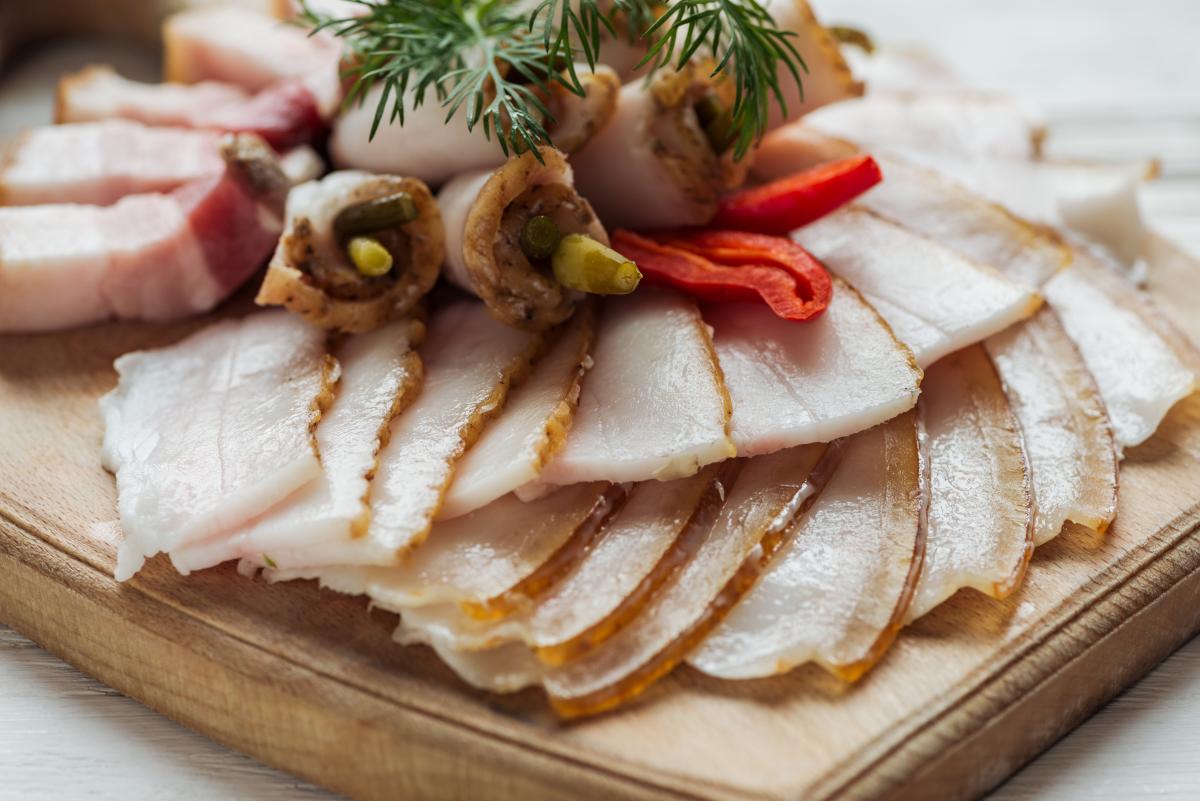 Lard is an ideal product of Ukrainian cuisine. It quickly satisfies hunger, is stored for a long time and does not need to be prepared beforehand. And if you add taste qualities, it is difficult to overestimate the value of this product.
However, doctors are convinced that not everything is so simple and there is a category of people who should avoid fat. Earlier we talked about how to salt lard in a jar.
Is it possible to get fat through lard and what is its calorie content
In 100 gr. lard contains from 800 to 1000 kcal, depending on the type of product. For comparison – in 100 gr. cake contains an average of 300-350 kcal, depending on the composition. It turns out that lard has three times more calories than cake. Then why do nutritionists insist that lard does not make you fat?
The fact is that, unlike sweets, which are rich in carbohydrates, lard consists of 90% natural fats. That is why in moderate quantities it does not harm your figure. In addition, due to the high calorie content of the product, you cannot physically eat a lot of it.
How much lard can be eaten at one time
If we talk about whether you can eat lard every day, then yes, you can. Despite the high calorie content, this product can be safely consumed every day, however, in very limited quantities. The average rate per day for a person who does not play sports is 30-40 grams, for an athlete – 50-70 grams. Basically, it's 2-3 sandwiches a day, no more.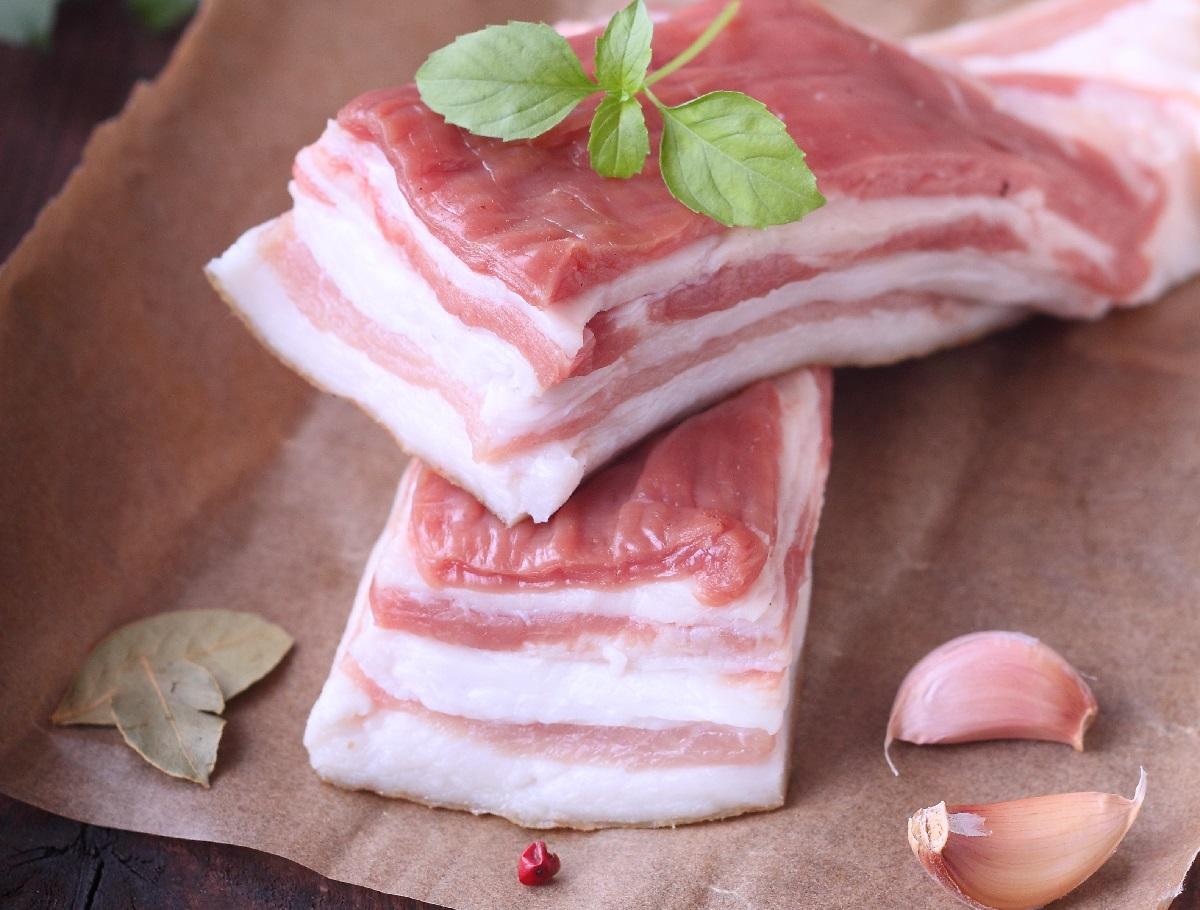 Why should there be lard in the diet – what is it useful for
If we talk about the benefits of lard, we need to look at the chemical composition of the product.
With a high content of natural fats and almost zero carbohydrates, lard contains:
vitamins E and A;
potassium;
copper;
selenium.
Thanks to Omega-6 fatty acids, lard itself is an ideal product to normalize the level of cholesterol in the body.
Also, its benefits for the skin are considered an undeniable plus of using lard. The fact is that natural fats increase skin turgor, in other words, the skin becomes more elastic and elastic.
Doctors also recommend using this product if necessary quickly remove toxins from the body. After a wild party where too much alcohol was drunk, lard will act as a sorbent and help you get back to normal faster.
There is also an opinion that lard improves blood coagulation and significantly reduces the risk of cancer.
Doctors recommend using lard for the prevention of diseases of the gastrointestinal tract. It is perfect for people with problems in the work of the cardiovascular system. Fat will also help improve metabolism and normalize brain function.
Also, lard is great cleans blood vessels from cholesterol plaques and significantly reduces the risk of thrombosis.
Also known for a long time benefits of lard for joints. With acute pain in the knees, it is recommended to apply a mixture of melted lard with the addition of a tablespoon of salt to the inflamed joint. The compress should be left overnight. Salt will remove excess fluid from the joint, and lard will relieve inflammation.
That is why nutritionists are convinced that lard must be in the diet of the elderly. The only condition is that the lard must be fresh. It makes no sense to use salted or frozen lard for medicinal purposes. It is a tasty high-calorie product, but lard no longer has medicinal properties after salting or freezing.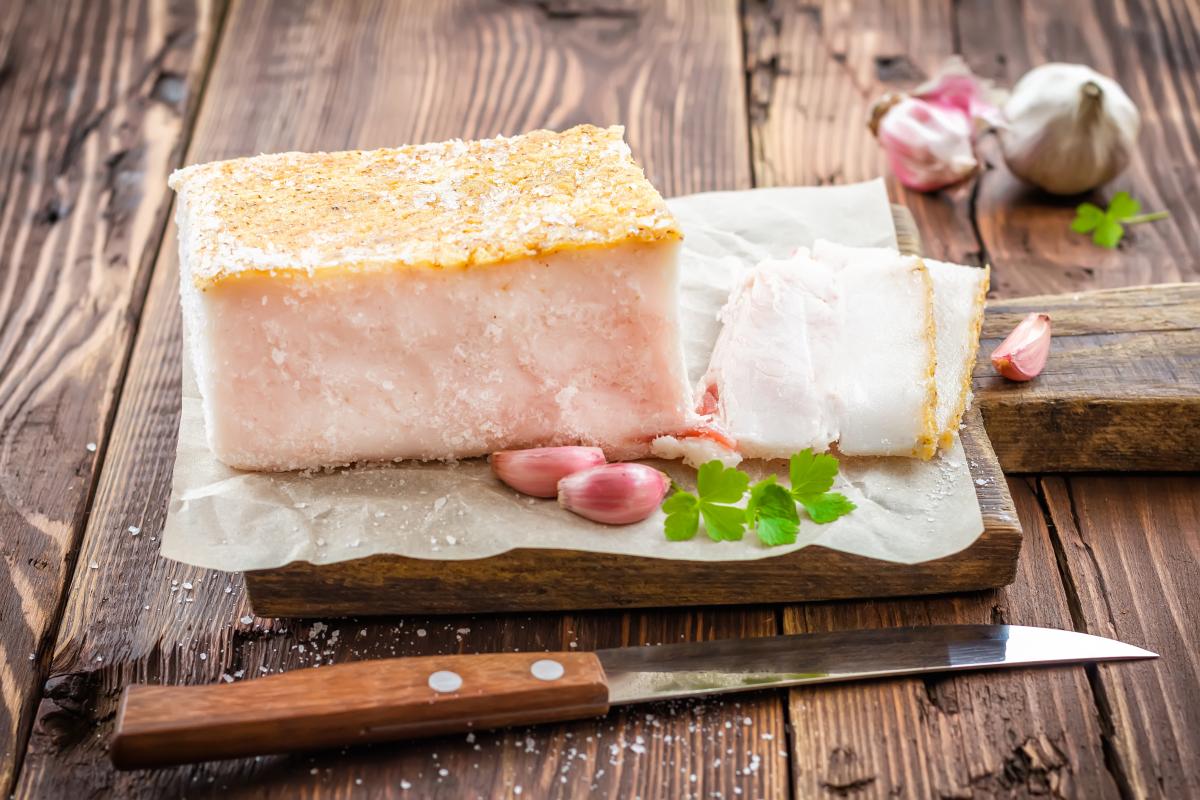 What is the harm of lard and to whom it is prohibited
Doctors do not recommend using lard for people with sick kidneys. It is also better to forget about this product for those who have serious liver problems. Fat is a prohibited product for people with acute pancreatitis or cholecystitis.
As for overweight people, in their case, the use of lard is possible only after an individual consultation with a nutritionist.
The fact is that with a high calorie content of the product, unwanted weight gain may occur. If you do not plan to actively do sports – do not use too much lard, because the calories you get will inevitably affect your waistline.
Which lard is the most useful
If you want to improve the appearance of your skin or improve your health a little, use only fresh lard. Such lard should not be salted or put in the freezer, as its nutritional value will decrease significantly.
If we talk about whether boiled lard is useful, then looking for what purposes you want to use it. If it's just to satisfy your hunger, it's an excellent tasty product that will fill you up quickly. If it is for medicinal purposes, then there is no benefit in boiled lard and your body will not get anything except extra calories.
You may also be interested in news: