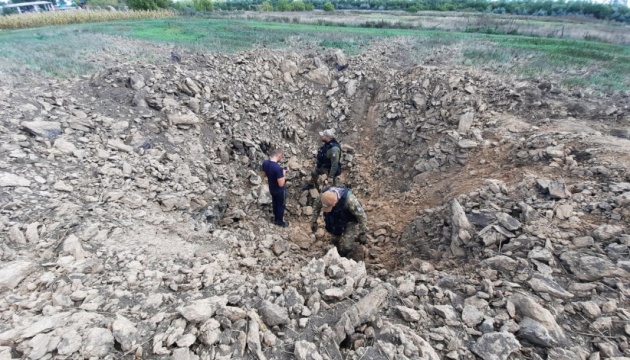 In the village of Novopavlivka, Beryslav district, Kherson region, there are almost no surviving houses left, huge gullies have formed in the place of some buildings.
As reported by Ukrinform, it is reported police of the Kherson region.
"There are almost no surviving houses left in the village of Novopavlivka of the Beryslav district, due to the destruction of infrastructure facilities, people have been living without water, electricity and gas for several months," the report says.
It is noted that this settlement is located 6 km from the place where active hostilities are taking place, the enemy is targeting residential areas where there are no military facilities. What about war in the village there were more than 700 residents who grew vegetables, worked on the local farm, now less than 100 people are trying to survive and wait for victory. According to the police, the Russian army is hitting civilians with artillery, "Hrads", "Uragans" and "Smerchs".
Police officers are constantly patrolling the settlement, recording the consequences of shelling, the extent of destruction, investigators on the ground are removing the remains of deadly projectiles.
As reported by Ukrinform, more and more settlements are on the verge of destruction in Kherson Oblast as a result of shelling. Residents of de-occupied settlements of the Kherson region urge to evacuate for the winter period in Zakarpattia, Khmelnytskyi and Zhytomyr regions. After reporting the intention to evacuate to the "hotline" of the Kherson OVA or to the chatbot, specialists will form an application and inform about the details of the evacuation.
Photo: Police of the Kherson region
https://t.me/Pravda_Gerashchenko