1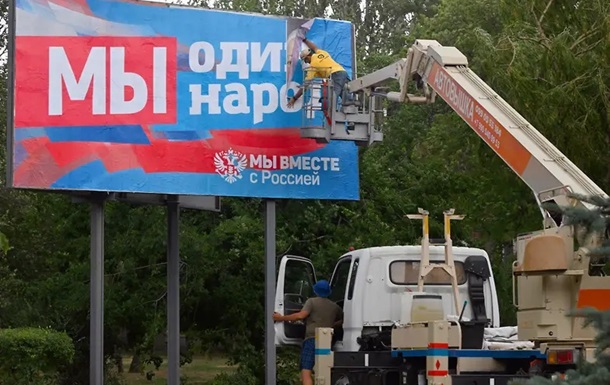 Photo: Social networks
The occupiers are trying to create the appearance of "referendums"
The occupiers are trying to stage a "theatrical production" for the domestic consumer, Yaroslav Yanushevich noted.
Russian invaders bring people from Crimea to the temporarily occupied territory of Kherson Oblast to participate in a fake referendum. About this stated the head of the Kherson Regional Military Administration (OVA) Yaroslav Yanushevich in his Telegram channel on Friday, September 23.
"We receive numerous appeals from the Kherson region about a fake referendum. People are being brought in from Crimea en masse to vote. Gunmen drive through the villages, forcing residents to vote. In Kherson, Chornobayivka, and other cities, they break down doors and force them to vote. Armed "assistants" walk the entrances and arrange "voting at home", he said.
Russia organized another low-quality "theatrical production" for its domestic consumer, the official emphasized.
The head of the OVA also added that the people of Kherson ignore the "voting" and thus demonstrate their civic position. However, he urged residents of the region to be careful.
"The best solution is not to open the door and not participate in this production. Refer to the disease – covid or tuberculosis. If you are forced to communicate with the "organizers", say that you will come to the polling station in a day or two. The ballots will determine how you voted , no one will be able to. But the best thing is not to take part in the vote," Yanushevich emphasized.
Source link