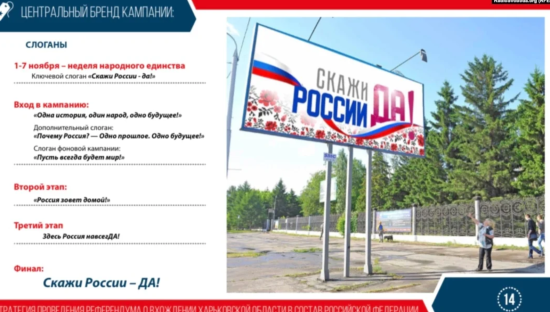 The identities of the main organizers and participants in the preparation of fake referendums in the temporarily occupied territories of Ukraine have been established.
As a result of multi-stage operational actions, the Security Service of Ukraine together with the Prosecutor General's Office identified more than 4 thousand representatives of enemy groups, traitors and collaborators, who are planned to be involved in the organization of illegal plebiscites on the territory of Luhansk, Donetsk, Kherson and Zaporizhzhia regions.
About this reported in the SBU press service.
Among those who participate in pseudo-referendums are Russian security forces, their henchmen from the local "Ministry of Internal Affairs" formed by the occupiers, and heads of the so-called "territorial electoral commissions."
Security of the pseudo-voting is going to be provided by units of the Russian Guard and the military police of the Russian Armed Forces. Collaborators from the occupation administrations and private security structures under the control of the special services of the Russian Federation were sent to help them.
The security service collected data on all organizers of illegal activities, established their locations and movement routes, and also documented criminal activities.
Regarding the persons involved in the holding of pseudo-referendums, criminal proceedings have been opened under Part 2 of Article 28, Part 5 of Art. 111-1 (collaborative activity) and Part 2 of Art. 110 (encroachment on the territorial integrity and inviolability of Ukraine) of the Criminal Code of Ukraine.
By the way, during the online briefing, SBU spokesman Artem Dekhtyarenko reported that under certain circumstances, teachers and doctors may also face punishment for collaborative activities in the territories of Ukraine occupied by the Russian invaders.
"Currently, the corresponding changes to the legislation are under consideration in the Verkhovna Rada. They refer to norms that will determine the level of responsibility of people who were forced to remain in the temporarily occupied territories and work in the sphere of life support. This applies to employees of the pedagogical field, doctors, people who work in utility companies, etc.," said Dekhtyarenko.
He added that each of these cases will be studied separately. A person who agreed to take a leadership position in a pseudo-health care organization or an employee in the field of education who will implement the educational standards of the aggressor state in Ukrainian educational institutions or who will contribute to the establishment of the occupying power in the temporarily occupied region can be punished.
We will remind, military expert Oleg Zhdanov advised Ukrainians in the occupied territories, where pseudo-referendums on joining the Russian Federation are held, one should simply not open the door to its organizers.
Read also:
Source link