You can make a delicious Raffaello cake without an oven. How – we tell below.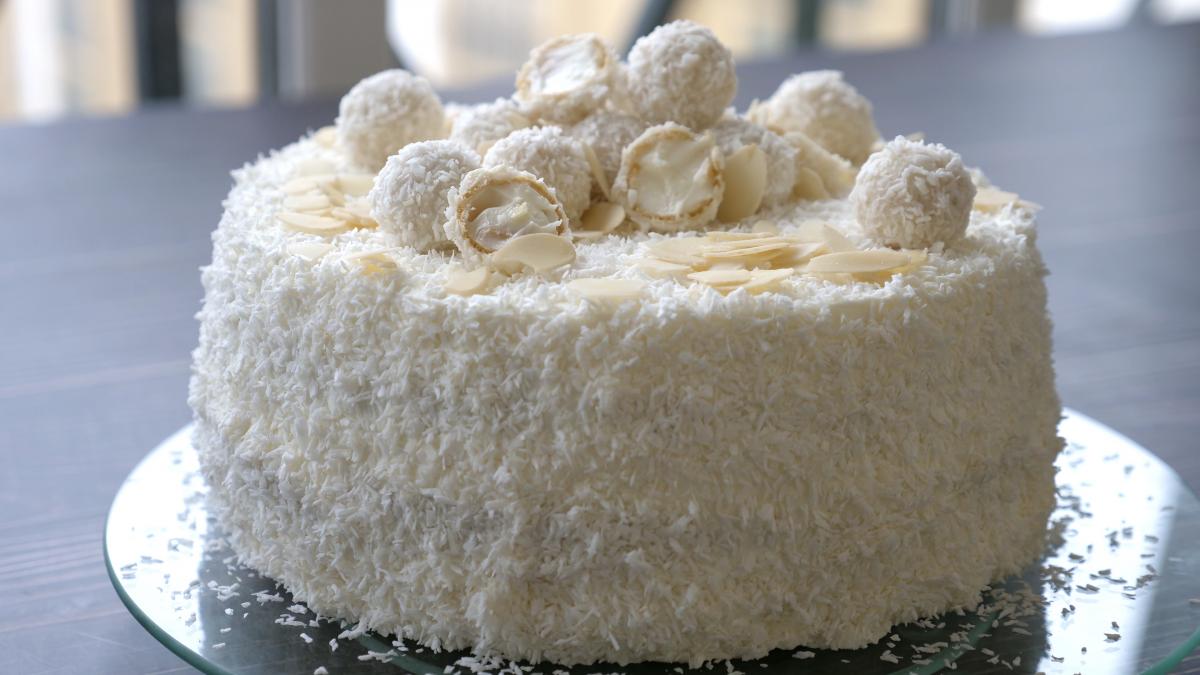 Many are fanatical about the popular "Rafaello" candies and have probably thought about trying to bake a coconut dessert on their own. However, often the complicated recipes or the amount of time it takes to make a raffaello discourage anyone from starting the process.
If you have unexpected guests or you suddenly want a dessert for tea, but you don't have the time or desire to mess with the dough for a long time – we suggest making a quick cake without baking. You will be surprised, but it is quite possible to prepare a delicious Raffaello cake in 15 minutes.
Previously, we told how to prepare an ideal one charlotte with apples on air dough and with a crispy crust.
Raffaello cake – a shortbread recipe
Ingredients:
milk – 1 l;
shortbread – 500 g;
sugar – 1 tbsp;
butter – 200 g;
egg yolk – 2 pcs.;
flour – 3 tbsp. l;
potato starch – 3 tbsp. l;
coconut shavings – 100 g.
vanilla sugar – 8 g.
To prepare the Raffaello cake, heat 700 ml of milk over low heat, bringing it to a boil. While the milk is being prepared, let's prepare the cream. To do this, combine flour, sugar, starch and vanilla sugar in one bowl, and mix the mixture until smooth.
Then add two egg yolks to the bowl and mix well. After you have mixed the mixture, pour in the remaining 300 ml of milk. Mix the mass thoroughly so that there are no lumps.
Now back to the milk on the stove. When it boils, gradually pour the previously mixed mixture into the milk. Do not forget to stir constantly to avoid the formation of lumps and to achieve a uniform consistency of the cream.
Then, stirring occasionally, bring the cream to a thickening over low heat. When you see that the cream has almost boiled, remove the pan from the stove and cool the contents to room temperature.
In order not to waste time while the cream cools, beat the softened butter. It is necessary to beat until the butter becomes light and white. For this, we recommend using a mixer. While continuing to beat the butter, gradually introduce the cooled cream into the bowl.
Now it's time to assemble the cake. For convenience, we advise you to use a detachable form, having previously covered it with parchment. Place a single layer of shortbread on the bottom of the mold and coat it with cream. Make sure that the cream is not too little so that the cookies soak well. Continue to alternate layers, but remember that the top must be creamy.
Sprinkle the assembled cake with coconut flakes. You can also decorate it with pieces of white chocolate. Place the Raffaello cake in the refrigerator for two hours to let it soak. After that, you can safely treat your guests and family. Everyone will be delighted.
Budget Raffaello – cake on waffle cakes
If suddenly there are no cookies at hand or you did not find what you need, but you want to prepare a quick cake without baking, you can pay attention to ready-made waffle cakes. Take ordinary white cakes for making Raffaello – the cake will be tender and slightly crispy.
Ingredients:
waffle cakes (light) – 1 pack;
cream cheese – 300 g;
cream (33%) – 300 ml;
white chocolate – 160 g;
powdered sugar – 50 g;
coconut shavings – 50 g (+ for decoration – to taste).
To prepare a simple and quick Raffaello, we will first make the cream. First, melt the white chocolate in a water bath or in the microwave, then cool it to room temperature.
In a bowl, combine cream cheese, powdered sugar and melted white chocolate. Mix all the ingredients well with a mixer.
In a separate bowl, whip the very cold cream to stiff peaks. After that, add the previously prepared curd mass to the cream and add coconut shavings. Gently mix the mixture to a homogeneous mass. It is advisable to do this with a plastic or silicone spatula.
It's time to assemble our cake: one by one, place the waffle cakes on a flat plate, smearing them with the resulting cream. Spread the top cake liberally with cheese cream and sprinkle with coconut shavings. If desired, you can also sprinkle coconut on the sides of the cake and decorate it with Raffaello candies.
The beauty of this cake is not only that it is prepared quickly and without an oven, but that it can be served immediately or left to infuse in the refrigerator.
You may also be interested in news:


https://t.me/Pravda_Gerashchenko