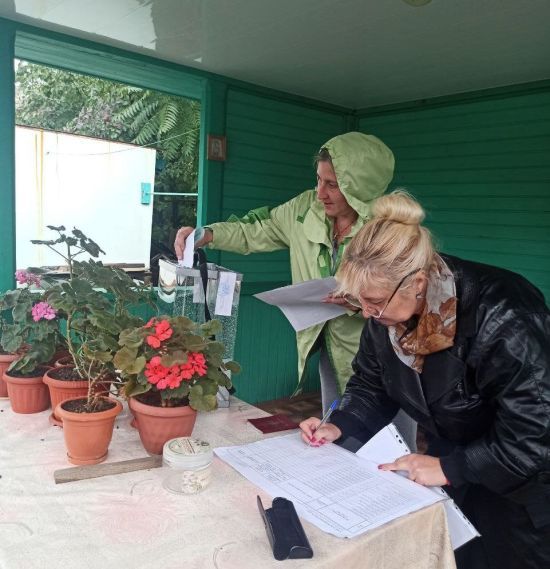 On the evening of September 27, Russian mass propaganda media began to spread information about the completion of the counting of "votes" in the occupation "referendums" held by the invaders in the occupied regions of Zaporizhzhia, Kherson Region, Donetsk Region, and Luhansk Region.
As expected, Russia "painted" that the majority of residents of four regions of Ukraine, who were forced to "vote" at gunpoint, voted for "joining" her.
The results of the occupation "referendums" were announced by the invaders' electoral committees.
Yes, according to the calculations of 100% of the ballots, 93% voters from the temporarily occupied territory Zaporizhzhia region "voted" for the "inclusion" of the region into Russia, said the head of the "election commission" of the region, Galina Katyushchenko.
Russia also invented that "entry" Kherson region to the composition of the aggressor country "supported" 87.05% of voters according to the results of counting 100% of votes, reported "Vyborchkom".
For the "entry" of the occupied Luhansk region to the composition of Russia at the "referendum" after processing 100% of the protocols "voted" 98.42% voters, said the "CEC of the LPR"
The leader of the "LPR" militants, Leonid Pasichnik, hastened to announce that on September 28 he would prepare a "document" for President Vladimir Putin regarding the entry of the occupied region into Russia.
The occupiers and collaborators are not working on something Daughters. Yes, there they announced the interim results of the "voting": 31.74% of the ballots were processed, and they "voted" for the region's "accession" to the Russian Federation 93.95%.
Deputy head of the Russian Security Council Dmytro Medvedev already had time to congratulate the results of "referendums" in the captured territories of Ukraine with the phrase: "Welcome home, to Russia!"
We will remind, according to the British intelligence, during his address on September 30 Putin may announce the "joining" of the captured territories of Ukraine to the Russian Federation.
Note that The European Union will introduce sanctions against the organizers of pseudo-referendums in Ukraine.
Read also: