"Днепровская панорама"

Well-known Russian journalist, video blogger, TV and radio host Yuri Dud expressed his support for Ukraine amid Russia's "recognition" of the "independence" of the so-called L / DNR republics, saying it did not choose the current Russian government and did not support "its imperial frenzy." He wrote about this on his page in Instagramtransmits Dnieper panorama.
Yuri Dud called the Russian leader "an emperor obsessed with history" and described the following meeting of the Russian Security Council, at which the country's leadership advised Putin to recognize the occupied territories:
The emperor was fascinated by history. Suite with amputated opinion and will. Propaganda escort, so difficult and so sweetly approving of the war from the warm apartments of the capital. Well, the decisions that this whole party makes. The solutions are not to convert natural resources for the well-being of Voronezh, Kamchatka, Nickel and the Arctic, but to get rich yourself and stay in the management of these resources longer. I did not choose this government, my imperial frenzy did not support it, – the journalist writes.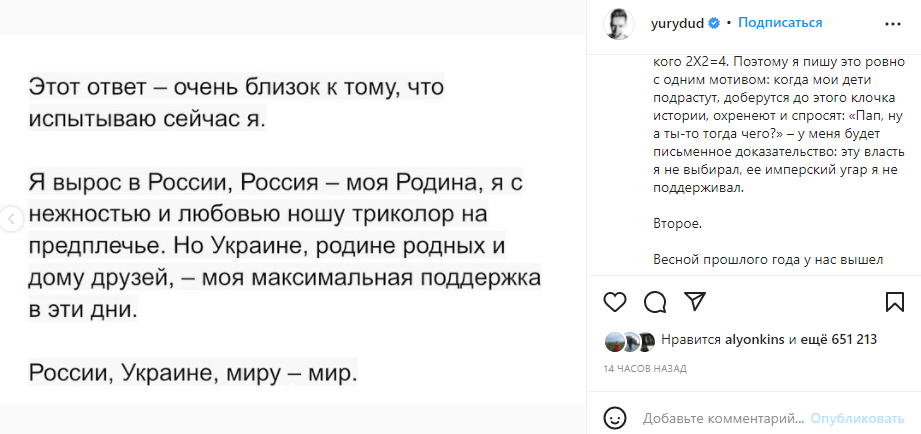 The video blogger also mentioned last year's interview with the musician of the St. Petersburg band Animal Jazz and answered him that he generally thinks about the current situation:
Answering the question: "How do you perceive what is happening between Russia and Ukraine?" – He replied: "Tin. Tragedy. And guilt. These are all green men, this is all outside interference – these are endless feelings of my shame and guilt. On the one hand, because I can't influence. On the other hand, because this is my country, although I do not seem to be directly responsible for these things, Dud quoted Krasovitsky's answer in an interview.
Read also: In the Dnieper on Karuny vandals damaged the fence (Photo)
Source https://dnpr.com.ua/post/rossijskij-bloger-yurij-dud-vyskazal-svoe-mnenie-ob-agressii-rf