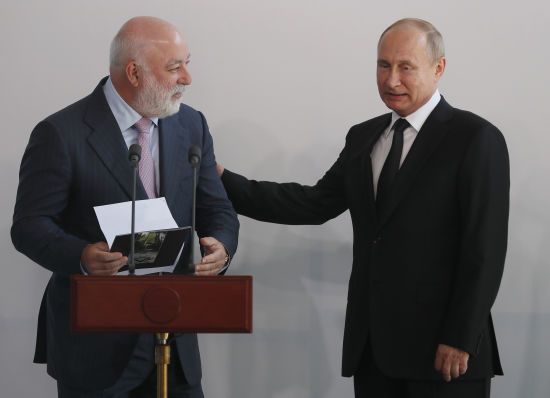 According to the Bloomberg Billionaires Index, Russian oligarchs lost almost half of their fortunes in just one month — in September.
As of October 2022, the fortunes of the richest Russian businessmen, who are under US and EU sanctions, have decreased by $94.64 billion. The founder of the Renova group, Viktor Vekselberg, and the chairman of the board of directors of Severstal, Oleksiy Mordashov, suffered the greatest financial losses.
Based on estimates by Frank Media data According to the Bloomberg Billionaires Index, in just over a month, from September 1 to October 3, the fortunes of Russian oligarchs decreased by as much as $40.7 billion.
The most "impoverished" in the list of entrepreneurs from Russia turned out to be the head of the investment group "Renova" and co-owner of "Rusala" Viktor Vekselberg: his fortune decreased by $11.2 billion, now it is estimated at $7.24 billion.
The chairman of the board of directors of Severstal also added to the list of billionaires who found themselves in the red. Oleksiy Mordashov — he lost $9.78 billion, now his fortune is $19.1 billion.
The fortune of the founder of the investment company Volga Group Gennady Tymchenko decreased by $9.66 billion, reaching $12.8 billion.
Financial status of the Chairman of the Board of Directors of NLMK Volodymyr Lisin decreased by $9.12 billion and amounted to $18.9 billion.
The largest shareholder of the mining and metallurgical holding Evraz and the shareholder of Norilsk Nickel Roman Abramovich the fortune was reduced by almost half, he lost $8.26 billion and is now valued at $9.74 billion.
However, three participants in the rating, according to the agency, were able to improve their financial condition from the beginning of 2022. In particular, an entrepreneur Andriy Guryevthe former CEO of PhosAgro, increased his fortune by $1.58 billion to $9.48 billion.
The fortune of the CEO of the largest Russian online store Wildberries Tatyana Bakalchuk increased by $198 million to $5.8 billion.
Alisher Usmanov's partner in the USM investment company and the owner of a share in the AliExpress holding Andriy Skoch increased his fortune by $172 million to $5.59 billion.
The Bloomberg Billionaires Index is a real-time ranking of the world's richest people. It displays indicators of the personal well-being of its members, based on market changes and Bloomberg reporting.
We will remind you, a Russian oligarch Mykhailo Fridman plans to obtain Ukrainian citizenship. Friedman also wants to re-register his business in Ukraine.
Read also: