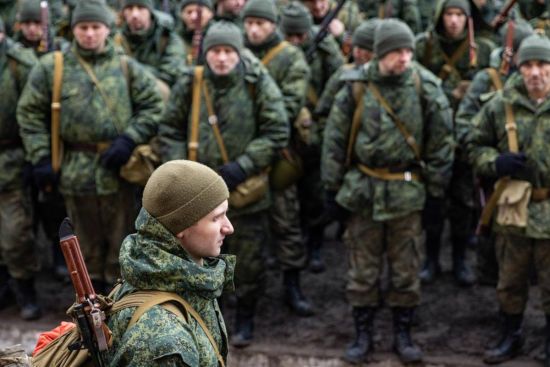 In some cities of the Russian Federation, house-to-house visits by police officers have begun to serve men with summonses.
In Russia, police measures aimed at ensuring the announced are being intensified mobilization. For example, in the Krasnodar and Stavropol regions, Arkhangelsk, Volgograd, Voronezh, and Rostov regions, available large premises for accommodating the mobilized (including sports facilities) were freed.
About this reports Main Department of Intelligence of the Ministry of Defense of Ukraine.
Representatives of the military commissariats conduct an "explanatory campaign" among men regarding personnel military service in the Armed Forces of the Russian Federation.
"Immediately after the announcement of mobilization, police officers began door-to-door rounds of the population in the town of Taman, Krasnodar Krai, with the aim of serving summonses to men of conscription age. The mobilized arrived at the Temryuk District Military Commissariat, formed into teams and went to replenish the military units that had suffered significant losses during the hostilities Upon arrival at the collection points, all available means of communication are taken away from people. Appropriate training is not provided in educational centers", the GUR informs.
In the district centers of the Russian Federation as well joint checkpoints of the police and representatives of the military commissariat are in place to prevent the "uncontrolled" movement of men and maximally cover the population with a wave of mobilization.
According to Ukrainian intelligence, mobilization in the Krasnodar region is of a mass nature. It is known that about 30% of conscripts are men who have no experience of military service, and received officer ranks after graduating from military departments.
"In the village of Tyotkino, Kursk region, searches are carried out on a regular basis in the houses of the local population. Representatives of the special services encourage one another to report, trying to find people who communicate with Ukrainians and who have acquaintances or relatives in the territory of Ukraine. As a result, the locals avoid any what kind of conversations both with ordinary people and with close people. The roads in the direction of the district center are blocked, the exit of the civilian population is prohibited," the intelligence reports.
We will remind a Military Commissariat post will be established on the border with Georgia in Verkhnyi Lars.
Read also: