At a conference call, Shoigu announced the alleged complete control by the occupying army over a number of Ukrainian cities.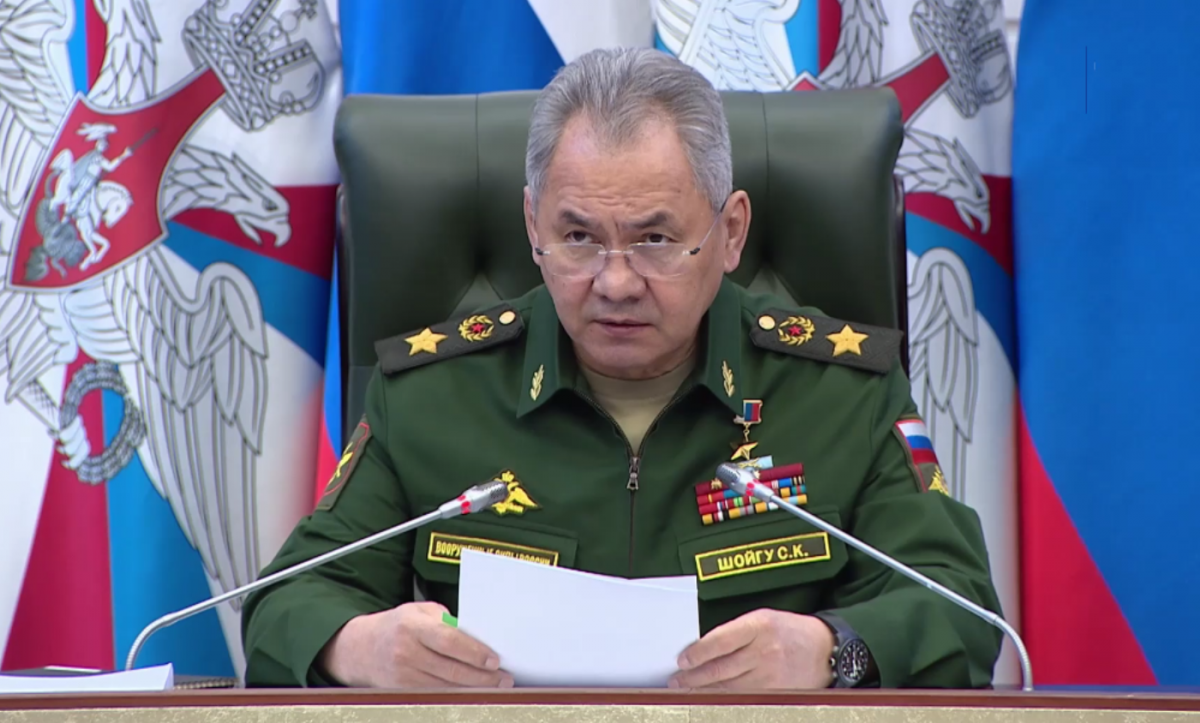 The Main Directorate of Intelligence of the Ministry of Defense of Ukraine reported that head of the Ministry of Defense of the Russian Federation Serhiy Shoigu attributes non-existent victories to himself and intensifies the conflict with the "Wagnerians".
"TASS, the propaganda agency of the occupying country, reported that the Minister of Defense of the Russian Federation, Serhiy Shoigu, at a conference call, declared that the occupying army had full control over the settlements of Soledar, Klishchiivka, Krasnopillya, Blagodatne, Mykolaivka of the Donetsk region, and Pidhirne, Lobkovo of Zaporizhzhya. He also mentioned the "successful" development of the hostilities near Bakhmut and Vugledar, emphasized that all the mentioned "achievements" are the result of the actions of the Russian Armed Forces. At the same time, Shoigu deliberately did not mention the fact that in all the indicated areas for the conduct of hostilities actively involved forces of the private military company "Wagner", – it is said in messages.
On the other hand, as emphasized in the GUR, the regular Russian army has only an episodic role of "support forces". This information is silenced by the Russian propaganda media, which indicates the continuation of the conflict among the military and political leadership of the Russian Federation.
The intelligence also emphasized that Ukrainian troops were withdrawn from the city of Soledar on January 25, which was officially reported by the command of the Armed Forces.
"As for other settlements, their capture by the enemy has not been confirmed at the moment. The Ukrainian Defense Forces continue their protection in each of the mentioned directions," the HUR noted.
Russian fakes about the war in Ukraine
Russian propaganda continues to spread fakes about the war in Ukraine and the Ukrainian military. Yes, at the end of January 2023 in Russia published another horror film about American experiments on Ukrainians. This time there they told a fable about experiments with HIV infection on soldiers of the Armed Forces.
In addition, Russian propaganda media reported that the occupiers went on the offensive in the north of Kharkiv Oblast. The Center for Combating Disinformation stated that this information is untrue, as well as other recent fakes of the Russian Federation.
Russian propagandists never tire of inventing fables about the President of Ukraine, Volodymyr Zelensky. For several months now, the Ukrainian leader has been talked about through the prism of "mystics". This time the mouthpieces of the Kremlin showed a strange story about Zelenskyi and the "Washington witches".
You may also be interested in news: