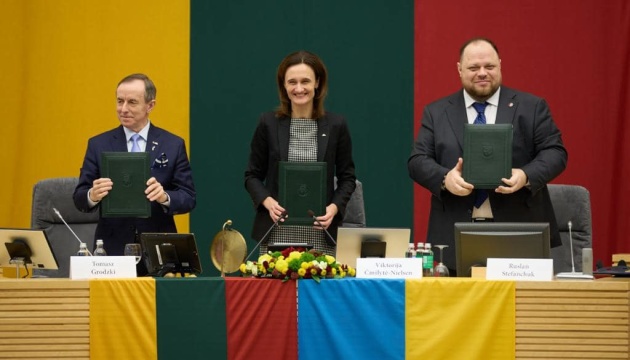 Chairman of the Verkhovna Rada Ruslan Stefanchuk spoke about the results of the 12th session of the Inter-Parliamentary Assembly of Ukraine, Lithuania and Poland.
He wrote about this in Facebookreports Ukrinform.
"The document signed by me, the Speaker of the Seimas of the Republic of Lithuania Viktoria Chmilitye-Nielsen and the Marshal of the Senate of the Republic of Poland Tomasz Grodzky declares that the Lublin Triangle is an important part of European and regional cooperation," said the Chairman of the Verkhovna Rada.
In particular, according to Stefanchuk, the parties emphasized that the Ukrainian victory in the war started by the Russian Federation is of vital importance for Ukraine and Europe in general.
"As the heads of the three parliaments, we call on the world to maintain and strengthen the sanctions pressure on the Russian Federation in order to further significantly undermine the ability of the aggressor state to continue the war against Ukraine," added the speaker of the Ukrainian parliament.
In addition, he noted that the joint document emphasizes the importance of developing and implementing a compensation mechanism for all damages caused by Russia to Ukraine.
"And we confirmed the readiness of our countries to continue cooperation in order to force Russia to completely withdraw its troops from the territory of Ukraine and restore the territorial integrity and sovereignty of our state within its internationally recognized borders," he summarized Stefanchuk.
As reported by Ukrinform, the Chairman of the Verkhovna Rada of Ukraine Ruslan Stefanchuk is on a working visit to Lithuania.
Photo: Ruslan Stefanchuk, Facebook


https://t.me/Pravda_Gerashchenko