1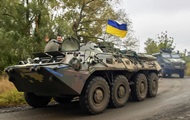 Ukrainian defenders really surrounded the Russian group in the Lyman area, noted Serhiy Cherevaty.
Ukrainian defenders surrounded the group of Russian occupiers in the Liman area. Currently, five settlements have been liberated, in which stabilization measures are continuing. This was announced by the spokesman of the Eastern Group of Forces, Serhii Cherevaty, on the air of the All-Ukrainian news telethon on Saturday, October 1.
"The Russian group in the Lyman area is surrounded. The settlements of Yampil, Novoselivka, Shandrygolovo, Drobysheve, Stavky have been liberated, stabilization measures are continuing there," he said.
He also confirmed that "about 5-5.5 thousand" Russian invaders were initially surrounded in the Lyman area.
"Our data showed that indeed the Russian group there (in the Lyman area – ed.) numbered around 5-5.5 thousand. However, active hostilities "minus" their combat composition, as well as some groups that tried to break through. That is, establishing the exact number of Russians still requires analysis in order to name the exact number," the military officer explained.
According to Cherevaty, attempts by the Russians to "break through" are still recorded, but they are not very successful due to the actions of Ukrainian fighters.
It will be recalled that the Institute for the Study of War previously stated that the Armed Forces of Ukraine complete the encirclement of the Russian group in the Lyman area.

Revenge for Ilovaisk. Boiler for Russians in Lyman
---

News from Correspondent.net in Telegram. Subscribe to our channel https://t.me/korrespondentnet