1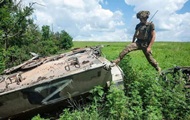 On Saturday, August 6, the armed forces of Ukraine repelled the offensive actions of the Russian occupiers in the Slavyansk, Bakhmut and Avdiivsk directions. This is discussed in the evening summary General Staff
So, in the Slavyansk direction, the enemy fired from barrel and jet artillery in the areas of the settlements of Velika Komyshuvakha, Suligivka, Dovgenke, Dolyna, Mazanivka, Adamivka, Karnaukhivka, Kurulka, Rydne, Dibrivne, Hrushuvaha, Bogorodicne and Mayak.
Separate units of the enemy tried to advance to the area of ​​the western outskirts of Bogorodichny, but were unsuccessful and retreated.
In the Bakhmut direction, enemy shelling was recorded near Bakhmut, Soledar, Zaitsev, Yakovlivka, Kodema, Yuryivka, Bakhmutsky, Berestovoy, Pokrovsky and Ivangrad. Russian attack and army aircraft struck near Zaitsev, Soledar, Bakhmut, Berestovo and Yakovlivka.
The occupiers tried to improve the tactical position in the directions of Stryapivka – Bakhmutskyi, Pokrovskyi – Soledar, Pokrovskyi – Bakhmuti, Volodymyrivka – Yakovlivka, Vidrodzhenki – Vershina, Pokrovskyi – Vershina. In all the indicated directions, the enemy was resolutely repulsed by Ukrainian soldiers and retreated.
In the Avdiivka direction, the enemy's barrel and rocket artillery shelled the districts of Avdiivka, Piskivy, Netailovo, Nevelsky, and New York. Assault aircraft of the occupiers operated near New York, Krasnohorivka, Piskov, and Maryinka. With offensive actions, the Russian invaders tried to break through the defense of the Ukrainian troops in the directions Spartak – Avdiivka, Vesele – Pisky, Novoselivka Druga – Krasnohorivka, Oleksandrivka – Maryinka, Kyrylivka – Pavlivka and Prechistivka – Novomayorske. Ukrainian soldiers inflicted significant losses on the enemy and pushed them back.
The enemy did not conduct offensive actions in the Kramatorsk direction. Fired tanks and artillery near Siversk, Serebryanka, Verkhnokamyansky, Dronivka, Donetsk, Hryhorivka, Reznyvka, Mykolaivka, Spirnyi, Zvanivka, Pereizny, Kalenyky, Dolyna, and Vyimka.
On the Novopavlivskyi and Zaporizhia directions, the enemy fired near Novomykhailivka, Shevchenko, Velika Novosilka, Zaporizhzhia, Zaliznychny, Novodanilivka, Zeleny Pol and Charivny. He carried out airstrikes in the areas of Temyrivka, Mali Shcherbaki, Novoandriivka, Vilne Pole, Novosilka, Vugledar, Pavlivka and Prechistivka.
In the Siverskyi direction, the enemy launched artillery fire near Yanzhulivka, Mykolaivka, and Iron Bridge of the Chernihiv region, as well as near Novaya Huta of the Sumy region.
The enemy did not conduct active offensive actions in the Kharkiv direction. He used barrel and rocket artillery for shelling the districts of Prudyanka, Duvanka, Zolochev and 27 settlements. Carried out airstrikes near Verkhniy Saltov, Lebyazhy and Husarivka.
In the Southern Buzka direction, the enemy, by systematic use of available means of fire defeat along the line of contact and in the depth of the defense, is trying to hold the occupied positions and prevent the Defense Forces from creating favorable conditions for resuming the offensive and liberating the temporarily captured territory.
It is also reported that the occupiers used army aircraft for strikes near Andriivka. Aerial reconnaissance of the area was actively carried out by unmanned aerial vehicles.
In the waters of the Black Sea, there are four sea-based cruise missile carriers ready to use high-precision weapons.
Source link