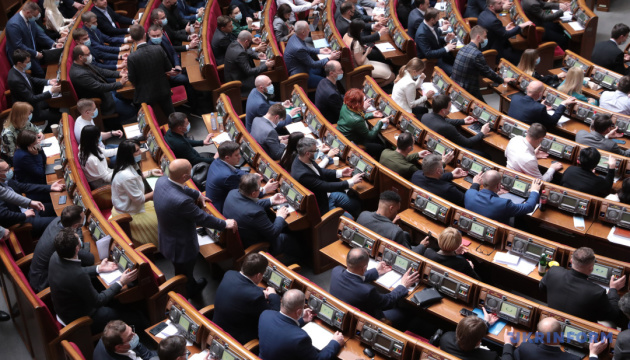 The Verkhovna Rada plans to consider the first reading of the draft Law "On the State Budget of Ukraine for 2023" on October 6.
This was stated by the head of the "Servant of the People" parliamentary faction, David Arahamia, on the air of the All-Ukrainian telethon, reports the correspondent of Ukrinform.
"Of budget, then we will consider it already on October 6. And there is the entire budget, in fact – for war and defense. That is, in principle, everything is for defense, you can say that," Arahamia said.
Responding to questions about the bill approved by the US Senate, which provides for the allocation of more than 12 billion dollars for Ukraine, Arahamiya said that it is "really a very important document."
In turn, answering the question why this amount is 600 million dollars more than the White House proposed to allocate earlier, the head of the "SN" parliamentary faction clarified that here we can talk about hard work at all levels – both political and diplomatic.
"At all levels – both the Office of the President, and President Volodymyr Zelenskyi himself, and the Parliament of Ukraine – we work with the US Embassy and directly with senators and congressmen who take care of the situation in Ukraine, who help us on an ongoing basis," Arahamia said. .
The People's Deputy noted that midterm elections will be held in the US Senate next month, and there is a good chance that the majority in the Senate will be held not by Democrats, but by Republicans.
"And to avoid potentially losing the bipartisan support that we currently have and enjoy, we went on this tour, including to meet with Republicans. To win their support and, if such a political moment comes, so that we have no failures in the future," said the parliamentarian.
Answering the question of how these funds will be distributed, if they are allocated to Ukraine, Arakhamia said that most of the money will go to the purchase of weapons. But at the same time, part of the funds can be directed to support the budget deficit.
"You know that we have a large budget deficit, and we are working with all our partners, in particular, we are talking about both the USA and European countries, in order to get long-term concessional loans somewhere, and somewhere directly – financial assistance to support the deficit our budget. Therefore, the majority of this money – about 85% of this money – will be used to purchase weapons. And the rest will go to direct support of our budget, first of all, of course," Arahamiya informed.
As reported, the Deputy Speaker of the Verkhovna Rada Olena Kondratyuk informed that the parliament plans to adopt the draft law in the second reading "On the State Budget of Ukraine for 2023" (No. 8000) until October 20.


https://t.me/Pravda_Gerashchenko