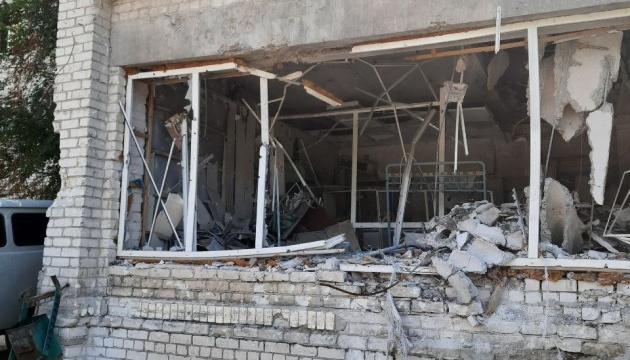 In Luhansk Oblast, the enemy continues to use "scorched earth" tactics, sparing the civilian population and their homes.
About this in Facebook Serhii Gaidai, head of the Luhansk OVA, reported, Ukrinform reports
"Yes, on August 5, the enemy fired five rockets in the area of ​​the front line between Luhansk region and Donetsk region, and the occupier's barrel and rocket artillery worked six more times. Mortars were used three times, the assault actions of the Russians were supported by tank attacks and aviation. In several directions, the Russians tried to capture more advantageous lines, to improve the tactical position, but they were forced to retreat," the head of the OVA informed.
Enemy troops are advancing in the direction of Bakhmut, hostilities are ongoing.
At the same time, according to Gaidai, the enemy is trying to destroy the person in the person, leaving the majority homeless, and now demanding to go to the referendum only for food.
"The occupiers actually destroyed the cities, made hundreds of thousands of people homeless, 90% of whom were evacuated. Many of those who remain live in basements and storage rooms. At first they were exempted from everything, and now they are forced to appear for a pseudo-referendum. In particular, this situation has developed in Lysychansk, Severodonetsk, Popasnaya, Rubizhny, Girsky, Zoloty and settlements of these communities," the head of the region noted.
He emphasized that the "campaign and explanatory component" of preparations for the referendum on the region's inclusion in the Russian Federation has been activated in Luhansk region.
Under the guise of providing food or construction materials, the occupying power and the collaborating "public movement" organize meetings with the population of the recently captured territories of the region.
"They are extorting personal data, urging people to go to the so-called referendum, forcing people to exchange their will for food, drinking water and OSB-plates," the head of the region added.
As Ukrinform reported, in the occupied territory of the Luhansk region, the invaders have intensified violent mobilization, involving the heads of personnel departments of enterprises and teachers.
Photo: Serhii Gaidai, FB
https://t.me/Pravda_Gerashchenko