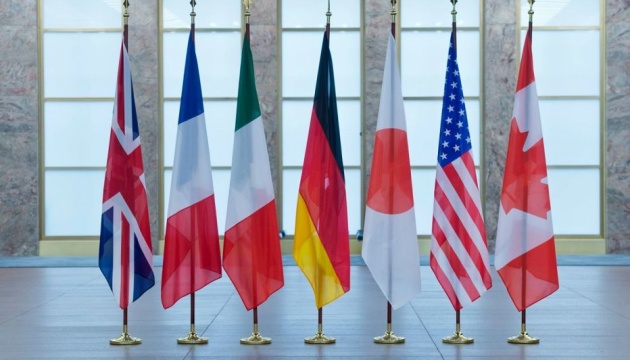 Leaders of the Group of Seven (G7) have condemned the fake "referendums" that Russia has started holding in the temporarily occupied territories, and called on all other countries to do the same.
This is stated in a statement posted on site the Federal Chancellor of Germany, who chairs the group this year.
"We, the leaders of the G7, strongly condemn the fictitious referendums that Russia is trying to use to create a false pretext for changing the status of the sovereign territory of Ukraine, which is the object of Russian aggression. These actions clearly violate the Charter UN and international law and are diametrically opposed to the rule of law between nations," the statement said.
It states that these fake "referendums" initiated today by Russia and its proxies have no legal force or legitimacy, as demonstrated by Russia's hasty methods of organizing them, which in no way respect democratic norms, as well as its outright intimidation of the local population .
"These referendums in the territories forcibly taken under the temporary control of Russia are in no way a legitimate manifestation of the will of the Ukrainian people, who have consistently resisted Russia's attempts to change the borders by force. We will never recognize these referendums, which appear to be a step towards Russian annexation, and we will never recognize the likely annexation if it happens," the leaders of the Group of Seven emphasized.
They also deplore Russia's deliberate escalating moves, including the partial mobilization of reservists and "irresponsible nuclear rhetoric."
The leaders of the G7 states call on all countries unequivocally not to recognize these fake "referendums" as an attempt by Russia to cover up its violations of international law.
They also confirmed their readiness to impose further economic sanctions on Russia, as well as on individuals and legal entities – inside and outside the Russian Federation – who provide political or economic support to Moscow's illegal attempts to change the status of the territory of Ukraine.
The statement confirms the steadfast commitment of the G7 countries to provide Ukraine with the support it needs to maintain its sovereignty and territorial integrity, protect its homeland, and choose its own future. The most developed countries will continue to provide financial, humanitarian, military, diplomatic and legal support, as well as promote recovery efforts, including through the International Expert Conference on the Recovery, Reconstruction and Modernization of Ukraine, which will be held in Berlin on October 25.
"We will stand firm with Ukraine as long as it takes," the statement said.
As reported by Ukrinform, finance ministers of the Group of Seven countries (G7) approved a plan to set a maximum price for Russian oil in order to deprive the President of the Russian Federation, Vladimir Putin, of additional income for the continuation of armed aggression against Ukraine.
https://t.me/Pravda_Gerashchenko