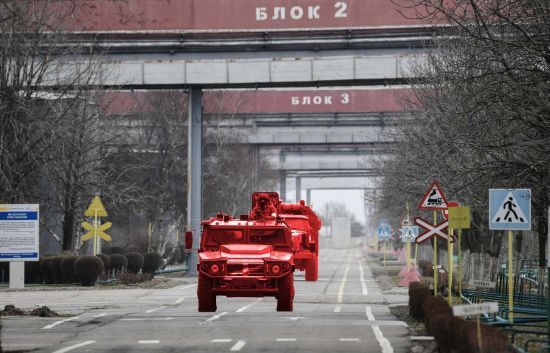 The occupiers are trying to recruit one and a half hundred Belarusian repairmen to work at the ZNPP.
On temporarily occupied by the Russians Zaporizhzhya NPP the aggressor is probably going to bring repairmen from Belarus. We are talking about about 150 specialists who worked at the Belarusian NPP.
About this informs NAEK "Energoatom".
Experts say that the Russian occupiers cannot get Ukrainian nuclear workers to cooperate. Therefore, it is obvious that the occupiers want to bring in Belarusians so that they can quickly repair the damage caused by shelling, which the Russians themselves arrange.
"The Russians are trying to recruit one and a half hundred Belarusian repairmen to work at the nuclear power plant. The occupiers are still looking for personnel to operate the plant, trying to make ends meet at it. So there is a possibility that the invaders will bring about 150 repair specialists to the Ukrainian nuclear facility, who worked at the Belarusian nuclear power plant," the message reads.
"Energoatom" added that even despite promises and threats, the occupiers do not have a sufficient number of qualified personnel to work at the ZNPP, which the Russians have illegally captured and are currently keeping soldiers, weapons and equipment there.
"Despite the fact that all methods are in use – from promises of "golden mountains" to threats, intimidation and captivity – the number of qualified personnel at the station is catastrophically lacking," said the statement of "Energoatom".
The situation at the ZANP
The Russians captured Energodar of the Zaporizhzhia region in March 2022 and then fired at the ZNP itself.
Army of the Russian Federation turned the ZNPP into a military and repair base, and they are also trying to assign it an "operating organization".
As President Volodymyr Zelensky reported in December, there are up to 500 armed Russian occupiers on the territory of the Zaporizhzhya NPP.
In mid-January, the Russian invaders they took away the passes to the ZNPP and access to the enterprise of almost 1,500 workers who refused to receive Russian passports and sign a contract with Rosatom.
Russian occupiers are also illegal changed the legal address of ZANP, fakely "resubordinating" Moscow.
A few days earlier, it became known that due to the refusal of part of the Ukrainian staff of ZANP to cooperate with the occupiers, as well as a lack of own personnel the Russians can neither launch nor operate the power units of the station.
Read also: