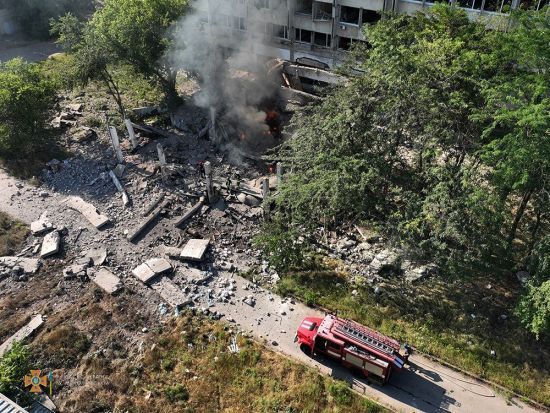 The army of the terrorist state of Russia continues to attack the Mykolaiv region.
On the night of August 6, around 03:30, the enemy launched rocket attacks on Mykolaiv. As a result of the attack by the occupiers, two people were injured. In addition, residential buildings were damaged.
About this reported in Mykolaivska OVA.
In addition, on August 5, the Russian occupiers shelled the residential quarters of the Korabelny district of the city. It is known about 21 wounded, including a 13-year-old teenager. One person died. Russians damaged 21 private houses. By the way, 17 of them were hit by shrapnel from ammunition in the roof, broken windows and a mutilated facade. Four private houses also caught fire, and windows were broken in five multi-story buildings. The buildings of two private enterprises were damaged.
Mykolaiv district
The day before, in the afternoon, the Russians struck the territory of the village of Novomykolaivka of the Pervomai community. As a result of the attack, a house and two outbuildings were destroyed. There were also fires due to dryness in the adjacent territories and the park area. Also yesterday, a conifer litter fire broke out twice on the territory of the Halytsyniv forest tract.
Bashtan district
The day before, around 10:30 p.m., the village of Chervona Dolyna in the Shirokiv community was shelled. Residential buildings and agricultural buildings in households were damaged.
On the morning of August 6, shelling was recorded outside the villages of Polyana, Stepove, Shiroke, and Chervona Dolyna. In addition, shelling occurs with a certain frequency in Shirokivska hromada.
The OVA emphasizes that during the last day, the intensity of shelling of the settlements of the Berezneguvat community, which is on the demarcation line, has increased. Yesterday, August 5, dry grass, a forest strip and harvest residues caught fire on the open territory of the community. This happened due to the fall of ammunition and their fragments
In the Voznesensky and Pervomaisky districts, the day and night passed relatively calmly, the Mykolayiv OVA emphasized.
As reported, a long curfew is introduced in Mykolaiv. It will last from 11 pm on August 5 to 5 am on August 8. Districts of the city will be worked out, in particular, regarding collaborators.
Read also:
Source link